Press Releases
December 28, 2016
Burlington Northern Santa Fe Railway Foundation Awards Bonner County EMS with a grant for $37,578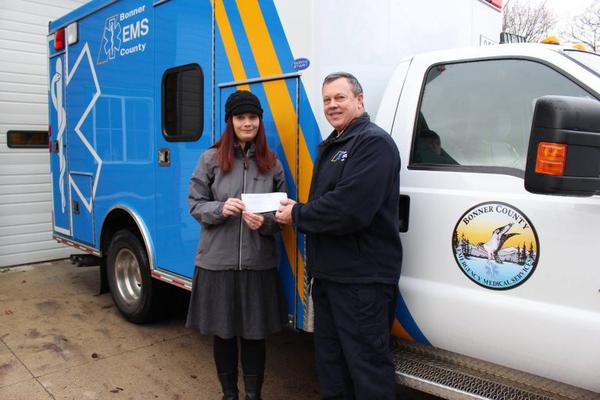 BNSF Railway Regional Director of Public Affairs Courtney Wallace presents a check in the amount of $37,578 to Bonner County EMS Chief Bob Bussey
Bonner County EMS has been awarded a $37,578 grant from the Burlington Northern Santa Fe (BNSF) Railway Foundation, BCEMS Chief Bob Bussey announced Tuesday. The grant award will go toward the purchase of an off-road ambulance. "We responded to two recent car vs. train collisions with critically injured patients where access to the patients was very difficult due to the terrain," Bussey said. "Given the hundreds of miles of hiking, biking and walking trails in Bonner County, having a specially outfitted response vehicle available will greatly increase our ability to respond to those areas where access is more challenging," Bussey said.
The BNSF Railway is one of the largest freight railroads in the country with 40,000 employees, 32,500 miles of track in 28 states and more than 8,000 locomotives. The BNSF Railway Foundation is the philanthropic arm of BNSF and provides the means for the company to give back to the communities it serves, said Courtney Wallace, Regional Director of Public Affairs for BNSF. "Supporting the First Responder community is a priority for BNSF," Wallace said. "North Idaho is an important part of our northern tier and areas with smaller populations do not always have the resources they need. When we see the opportunity to support and give back, that's what we like to do."
The MedStat off-road ambulance, manufactured by ASAP All Terrain, is based on a Polaris Ranger 6X6 chassis and features a fully enclosed, all aluminum patient compartment that secures a full size cot and seating for up to two attendants and a driver. "The MedStat is a very versatile vehicle that will be able to be deployed to a number of events, including sports standbys, Lost in the 50s, Fourth of July and The Bonner County Fair," Bussey said. "We are very grateful to the BNSF Railway Foundation for their generosity and support of our community."
BCEMS expects to take delivery of the new vehicle mid-spring 2017.