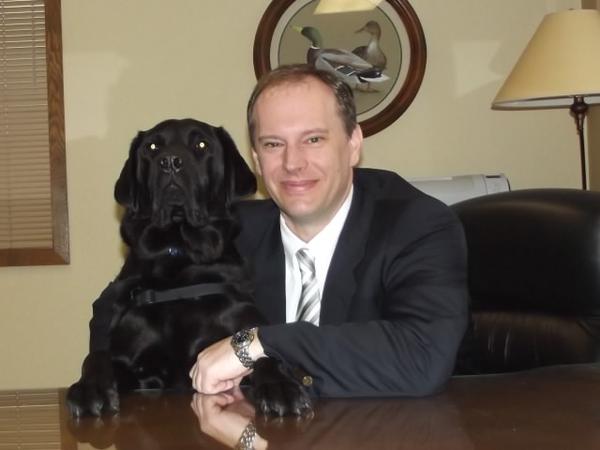 Louis Marshall, Bonner County Prosecutor (with Ken, Facility Dog) 
 Mission Statement 
We, the Bonner County Prosecutor's Office, serve the public and law enforcement agencies by prosecuting criminal cases through aggressive, fair, and timely prosecution of crimes while offering dignity, respect, and support to crime victims.   We also prosecute and defend civil actions involving Bonner County, and advise the county commissioners and other public officers on matters of county business.
 Welcome to the website of the Bonner County Prosecutor 
My name is Louis Marshall.  I have been the elected prosecutor since January 2009.  Before that, I served as a deputy prosecutor from the years 2002 through 2008.  We have twenty one employees, including one Criminal Investigator and nine attorneys.  Our office handles the prosecution of all crimes that occur within unincorporated Bonner County as well as the felonies that occur within the cities of Priest River, and Ponderay.  Additionally, the office is responsible for all crimes committed under the Juvenile Corrections Act, all civil commitment proceedings, and all proceedings under the Child Protection Act.  Our office also represents Bonner County in a civil capacity.  This includes providing legal advice to elected officials and department heads, as well as providing the general civil defense of Bonner County.
We are an active participant in the Bonner County Drug Court and we look for proactive ways to deal with our community's drug problem, focusing especially on methamphetamine.  We also represent and play an active role in the Bonner County Board of Community Guardian as we try to help those in our community assist the most vulnerable amongst us. Please take an opportunity to review and explore this website.  Let me know if there are things that are especially helpful or could be changed in your opinion.  I do appreciate the feedback. Thank you, Louis Marshall
 Prosecutors Office welcomes facility dog, Ken 
In 2015 the Bonner County Prosecutor's Office welcomed Courthouse Facility Dog, Ken, to its staff. Ken was trained by Canine Companions for Independence in Oceanside California. Ken is a male Lab/Retriever mix who specializes in making children and vulnerable people more at ease during the criminal justice process. Ken works with handlers Peggy Frye and Rosemary Udrizar with the Victim Witness Unit within the Prosecutors Office.
 Louis E. Marshall 
Bonner County Prosecutor,  louis.marshall@bonnercountyid.gov
Daniel L. Rodriguez 
Chief Deputy, daniel.rodriguez@bonnercountyid.gov
 Dixie Sherbon 
Office Manager,  dixie.sherbon@bonnercountyid.gov
 Peggy Frye 
Victim Witness Unit Coordinator,  peggy.frye@bonnercountyid.gov
 LINKS: 
Phone:  (208) 263-6714
Fax:  (208) 263-6726
Hours:
Monday – Friday
8:00 a.m. – 5:00 p.m., excluding holidays