Trails in Bonner County
Bonner County is home to vast mountains, waterways, and some of the greatest scenic trails. There are around 660 current miles of biking, hiking, walking, and ATV trails. We are also fortunate to have many organizations that provide trail maintenance and preservation.. 
Below are only a few trails that Bonner County has to offer, check out the websites that are linked to find out more information and explore the area for more breath taking trails.
Hayes Gulch -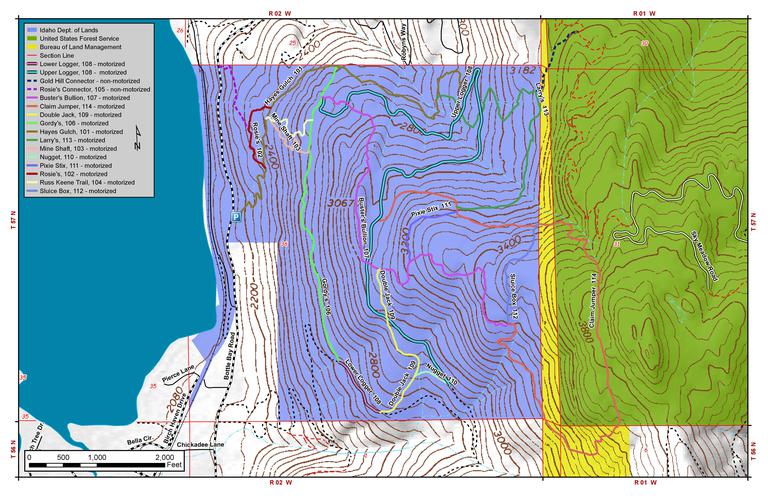 Round Lake State Park - 
Maiden Rock Trail
Pend d'Oreille Bay Trail
Mickinnick Trail Head 13
Mineral Point Trail
 
Check out trails in Priest Lake HERE, trail's include:
 Kalispell/Reeder Trail #365
 Lakeview Mountain Trail #269
 Navigation Trail #291
 Organizations that help maintain trails, build trails, support trail builders, and trail enthusiast groups: 
City of Kootenai
City of Ponderay
City of Sandpoint
Friends of Pend d'Oreille Bay Trail
Friends of Scotchman Peaks Wilderness
Idaho Conservation League
Idaho Department of Lands
Idaho Trails Association
Kaniksu Land Trust
LOR Foundation
 North Idaho Bikeways
North Idaho Trails
Panhandle Backcountry Horseman Association
Panhandle Riders
Pend Oreille Pedalers
Priest Lake Snowmobile & Trails Club
Priest River Valley Back Country Horsemen
Priest River Valley Back Country Horsemen Chapter
Rotary Club
Sandpoint Bike and Pedestrian Advisory Committee
Sandpoint Nordic Club
Schweitzer Mountain Resort
Spirit Lake Chamber of Commerce
 Trail Mix Committee
 Trails Advisory Group
Trust for Public Land
U.S. Forest Service