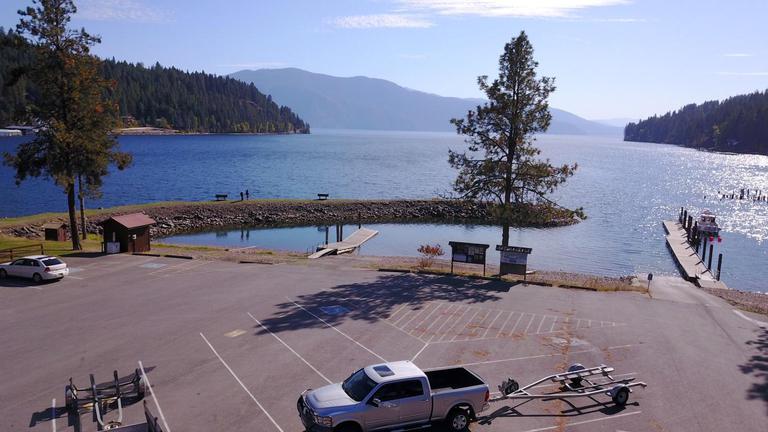 Photo Credit: Sandpoint Drone Photography
Launches in Bonner County to visit at low lake level
Pend Oreille Lake: Garfield Bay - A Bonner County boat launch located in Sagle Idaho
Hope Boat Launch - A Bonner County boat launch located right off of Highway 200 East
Pringle Park - Located in East Hope. Pringle Park does not have a dock at low pool. You may be able to launch a small craft from Laclede and Bonner Park West at low pool but it is not advisable. 
Priest Lake: Priest Lake State Park and Indian Creek are both great options but please be aware that these are both fee launches and only open for day use. Bonner County launches at Slee Street and Coolin are not advisable to launch from during low pool. 

*Bonner County launches are all Day Use Sites ONLY and there is No Camping Allowed and No overnight parking. If you are looking for camping Garfield Bay Campground is open during the summer months. You can make a reservation for Garfield Bay through reserveamerica.com or check out some other campgrounds in the area at recreation.gov. 

Bonner County maintains 6 boat launches:  Garfield Bay, Hope Basin, Laclede, Bonner Park West, Slee street in Priest Lake, and Coolin Launch in Priest Lake.
Bonner County Boating Regulations & Safety 
No Wake Zones: A designated area where the operation of watercraft must be accomplished at not more than 5 miles per hour, nor with more than a 6-inch wake, whichever is greater. The listed limit on Bonner County Waterways is 200 feet from the shoreline or structure.
Speed Limits: Where speed is not otherwise regulated, the speed limit should be reasonable but not in excess of 50mph on Lake Pend Oreille, Pend Oreille River, Priest Lake, & Upper Priest Lake, and 35 mph on the Clark Fork River and Come Back Bay.
Boating Accidents: If your boat is involved in an accident you need to stop the vessel immediately at the scene and assist anyone who may be injured or in danger from the accident. The operator must give in writing, his or her name, address, and vessel identification to the owner of any property damaged by the accident.
*It is unlawful to operate or to allow the operation of a motor-driven watercraft by a person under the age of 10 except under direct adult supervision.*
If you have questions feel free to check out the Marine Division Website or call the Bonner County Sheriff's Office: (208) 263-8417 or non-emergency dispatch: (208) 265-5525. 
Education: many organizations and Government Agencies offer education courses and training for boat operations, places such as the Idaho Department of Parks & Recreation, the U.S. Coast Guard Auxiliary, the U.S. Power Squadron, and Bonner County Sheriff's Office. The Sheriff's office will be conducting a Boat Idaho Course about 3 times each spring/summer for anyone wanting to learn basic boating laws and safety. Visit HERE to sign up for their class or inquire for more information. 
Boat Responsibly!  For more information see the links for Facebook and Twitter below: 
https://www.facebook.com/IdahoBoatingProgram   &  https://twitter.com/boatidaho
Enjoy your time on Bonner County waters – we appreciate your visit!
Wear a life jacket. 
Never operate a boat under the influence. 
Take a boating safety course. 
Get a free Vessel Safety Check.  
Important Information about Invasive Species 
Bonner County and many other Counties, States, and organizations are trying to keep Eurasian Watermilfoil and Zebra Mussels out of our waterways.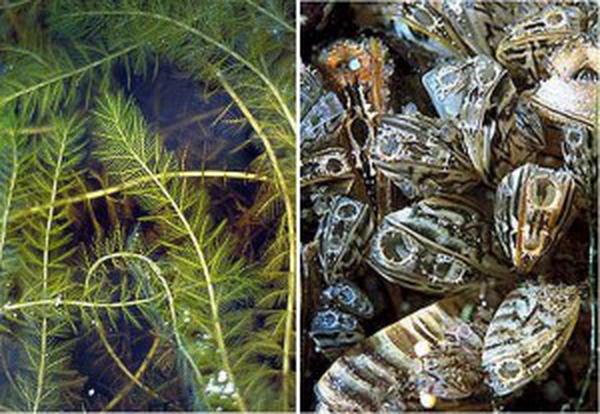 Be responsible and wash all boats and trailers before launching. Throughout Bonner County, there are many boat check stations to help prevent the spread of these dangerous aquatic species with the Clean, Drain, Dry Your Boat initiative. This program is ran be the Bonner County Soil & Water Conservation District you can visit their website for more information about the sticker program for out-of-state boats and to find out where the nearest boat check station is. 
-  Bonner County Mooring Buoys - Use at your own risk, maximum of 14-day limit to moor
-  Title 3 Bonner County Code – Water Safety Regulations for all Public Waters
-  Title 3 Bonner County Code – Public Waters – Schedule A – Infraction Penalties
Bonner County Waterways Advisory Board
If additional information is requested regarding the Waterways Advisory Committee you may contact Pete Hughes at 208-255-5681 Ext. 4 or one of the Bonner County Commissioners at 208-265-1438.
Priest Lake Water Management Project: information about the work completed for the thorofare and work on the Outlet Dam.