Veteran Events
October 23rd - Final Arrangements 101; death planning seminar. This event will take place at 9 am and 1 pm at the Quality Inn Oakwood, 7919 North Division in Spokane. Subjects that will be covered are the death certificate in and process, choosing the right funeral home, cremation, legal problems, life insurance and much more. This seminar is ideal for anyone who wants to pre-plan for themselves or a family member and individuals providing care. Space is limited for this event so please RSVP to Kellie Richardson 509-714-7482 or kellieR91@yahoo.com. Refreshments will be provided during event.
October 25th - Welcome Home Celebration. This is a free event to those who served in the Vietnam War, the armed forces, or the republic of Vietnam and 1 guest. Tickets are $60 each for all other veterans, guests, and the public. This event will take place at the Three Rivers Convention Center in Kennewick WA starting at 5:30 pm. Keynote speaker will be General James Mattis; for more information contact the Columbia Basin Veterans Center at 509-545-6558.
November 1st - Veterans Family Fall Festival; location will be at the Post Falls National Guard Armory. There will be fun activities, games, food, candy, costume contest, and a bouncy house as a free event for military and veteran families. For more information contact Cassandra Rzepa at 208-608-3816.
November 20-24th - Warriors Heart to Art. This event is seeking 15 Spokane Area Veterans with PTSD symptoms that impede on living a health lifestyle and have a desire for healing. This is a 5 day retreat providing hope and help for healing, supporting one another, exploring the process of healing and using creative arts to convey your story. Check out more about the event on WarriorsHeartToArt.org, call 509-991-5167, or email: retreat@WarriorsHeartToArt.org.
January 25th - Spokane Stand Down; this will take place at the West Central Community Center from 10 am until 3 pm. For more information or to attend as a community provider please contact: Jenniferm@giin.org.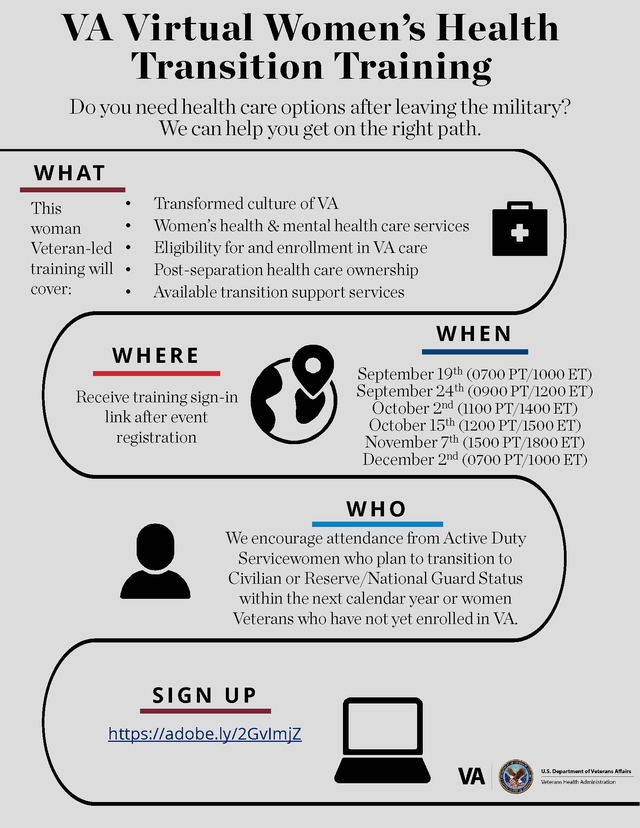 Continuous Events
---
Sandpoint War Vet's Group – Every Other Thursday from 10:00 until 11:30 at the Sandpoint VFW; Next meeting will be January 12th. Offering war veterans of all eras a place to meet and overcome the unique challenges of life after war. Open to veterans of all wars, on the corner of Pine and Division. If you have any questions call 509-844-1053.
Sandpoint War Veteran's Spouses Group – Meeting every other Thursday from 10:00 until 11:30 at the Sandpoint VFW; next meeting will be January 5th. Offering support for spouses and significant other of war veterans in Sandpoint. Call 509-844-1053 with questions.
Marine Gunnery Sergeant John David Fry Scholarship provides post-9/11 GI Bill benefits to the children and surviving spouses of Servicemembers who died in the line of duty while on active duty after September 10th, 2001. Need some more information on what the VA can provide for students, check out the their website HERE .
Military Family Scholarships – BestColleges.com has created a financial aid guide specifically for military spouses and children. They provide context for how students can best take advantage of available federal resources, and offer over 30 scholarships and grants for veterans, spouses, and dependents of veterans. Check it out HERE .
---
For more information on these upcoming activities or any questions send an email to lyndsie.halcro@bonnercountyid.gov .
To schedule an appointment get in contact with our Veteran Service Officer Bryan Hult today, 1500 Hwy 2, suite 122 in Sandpoint or call between 8:00 am and noon to schedule an appointment; 208-255-5291.