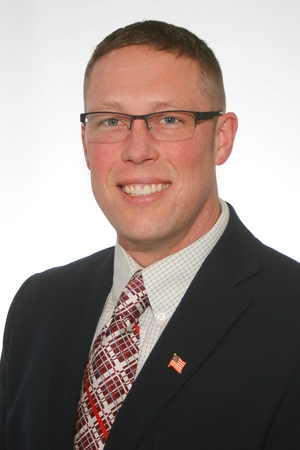 Luke Omodt, Commissioner
District 3
We first crossed the Long Bridge in 1979 when dad got a job working for McFarland Cascade and my mom went to work at Bonner General Hospital working in obstetrics. I attended Northside Elementary and graduated from Sandpoint High School in 1995. After attending the University of Idaho I joined the US Army Infantry and served in Germany, Bosnia, Croatia, Albania, and Iraq. 
After my first tour in the military I returned to college to earn a degree in education. During the SHS class of 1995 ten year reunion, I became smitten, and eventually married the love of my life. We live across the street from my grandmother's house and six miles from our parents in either direction. Our daughters are the third generation to attend Washington Elementary.
I taught American Government at Bonners Ferry High School and retired from the Idaho Army National Guard in April of 2022. During the summer my daughters and I work on the family farm and sell blueberries at the Sandpoint Farmers's Market. 
Public service is a family tradition. It is a privilege to be entrusted with this responsibility. My focus will be on preserving and enhancing the quality of life for all of Bonner County. 
I can reached at the Bonner County Commissioners Office at 208-265-1438
By cell phone 208-946-3173
Or by email: luke.omodt@bonnercountyid.gov