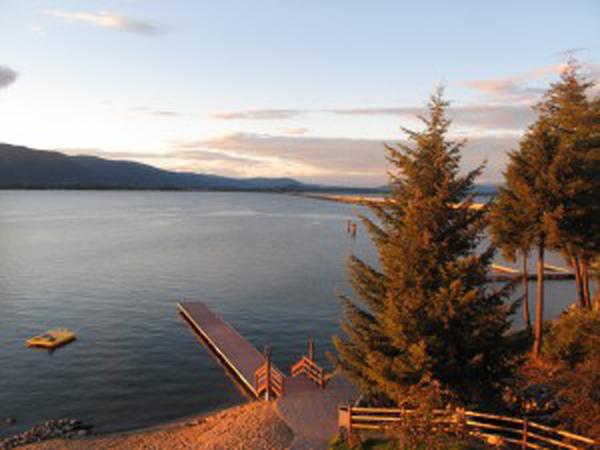 A view of Lake Pend Oreille 
 Manager: 
Joleen Bass
208-265-1430
Locations: 

Main Office:  located inside the Bonner Mall in Ponderay.
300 Bonner Mall Way, Ste. 24
Ponderay, Idaho  83852
Phone: 208-265-1430
Fax: 208-265-1455
Hours: 8:30 - 5:00 p.m., Monday - Friday
Satellite Office: 
75 Eastside Road
Priest River, Idaho 83856
Phone: 208-448-0746
Fax: 208-448-1467
Hours:  8:30 - 5:00 p.m., Monday - Friday
Registering Vehicles in Idaho 
To register a vehicle in Idaho:
The vehicle must belong to an Idaho resident or business.
If the vehicle belongs to an out-of-state resident, the vehicle must remain in Idaho and be for Idaho use only. If vehicle belongs to an out-of-state resident who has not paid sales tax in any state and is for Idaho use, sales tax would be due on the NADA book value or on written retail appraisal value performed by an Idaho dealership. Sales tax would have to be paid at the time of registration.
The vehicle must be titled in Idaho before it can be registered. (You can apply for vehicle registration immediately after the titling process has been completed.)
FEES: 
The following are  approximate fees  for new plates and registration on passenger cars, motorhomes, motorcycles, boats and recreational vehicle trailers. For exact fees please call Bonner County DMV at (208) 265-1430.
Passenger Cars and Motorhomes** $91.50 to $65.50 (depending on vehicle age)
Motorcycles $40.29, ATV-UTV $3.00 for Restricted Plate and $12.00 for  Off- Hwy sticker.
Boats $21.50 for boats up to 12 feet (add $2 for each additional foot in length) $10.00 fee is added to your boat license fee for the Invasive Species Sticker. Separate Invasive Species Sticker must be purchased for boats that are not required to be licensed.
Recreational  Camping Trailers $13.50 + RV sticker fee**
Utility trailers and boat trailers $14.50 for 1 year, $29.50 for 5 years or $39.50 for 10 years.
Commercial Trailers $25.50 for 1 year.
Permanent Trailer Plate $108.50.
Truck Plates over 8,000 GVW charged by weight- please call for fees.
Mailing Fee $3.34 for two plates and $2.74 for one plate.
*In addition to the above listed fees House Bill 312 became effective July 1, 2015 which includes a fee increase of the following fees per month of registration:
Passenger and Motor Home Plates  additional $1.75 per month
Hybrid Vehicles additional $8.00 per month
Electric Vehicles additional $19.67 per month
Truck Plates additional $2.00 per month
Motorcycle Plates additional $.83 per month
**Motorhome and RV trailer owners are required to purchase a recreational vehicle sticker. The cost of this sticker is $8.50 for the first $1,000 of market value and $5.00 for each additional $1,000 of market value. RV stickers are prorated on a monthly basis for first-time issuance.
 Where to register 
You can register your vehicle(s) at any of Idaho's 44 County Assessor offices (see your local phone directory). In Bonner County, call (208) 265-1430 or in West Bonner County, call (208) 448-0746
 License plates 
Standard license plates are available at your County DMV Office.
You can order the following types of license plates when you register your vehicle(s) at a County DMV office. All but the standard plates are an additional $35 initial fee upon issuance and an additional $25 renewal fee above your regular fees for registration each year.
4-H
Agriculture
Appaloosa
Centennial
Capitol Restoration
Collegiate
Corvette
Firefighter
Friends of NRA
Idaho Aviation Foundation
Idaho Mountain Biking
Idaho Rangeland
Idaho Territory Sesquicentennial
Lewis and Clark
Peace Officer
Potato
Rocky Mountain Elk Foundation
Sawtooth
Snowmobile
Snowskier
Standard Scenic Idaho
Support Our Troops
Timber
White Water Rafting
Wilderness: Selway-Bitterroot & Frank Church-River of No Return
Wildlife (Bluebird, Elk, or Cutthroat Trout)
Youth
Special license plates 
The following types of special license plates are available from the Vehicle Services in Boise or you can obtain order forms at Bonner County DMV offices
Personalized license plates 
Personalized license plates are available for vehicles not in excess of 26,000 pounds gross vehicle weight and motorhomes. The following types of plates can be personalized:
* Motorcycles qualify for the Standard Personalized plate only.
The initial fee for a personalized standard or disability license plate is $25 in addition to the regular registration fees at the time of issuance and $15 in addition to the regular registration fees each renewal year. All other special plates are $60 additional at time of issuance and $40 additional each renewal year.
For first-time issuance of personalized standard, "special plates" or  personalized disability plates please contact the Idaho DMV in Boise at (208) 334-8649 or you can obtain applications at Bonner County DMV at (208) 265-1430, 300 Bonner Mall Way Ste 24, Ponderay, Idaho 83852 or Bonner County DMV Satellite Office at (208) 448-0746, 75 Eastside Road, Priest River, Idaho 83856.
 Titling Vehicles In Idaho 
Requirements 
Idaho residents and businesses may title and register vehicles in Idaho. Idaho residents who are temporarily in another state (i.e., students or military personnel) may request titles and registrations for their vehicle(s) through the mail. Also, lien holders located in another state who are financing a vehicle being titled in Idaho may title through the mail. If there is a lien recorded, the title will be mailed to the lien holder of record. If there is no lien holder recorded, the title will be mailed to the titled owner. The registration and license plates will always be issued and mailed (if applied for through the mail) to the titled owner.
Titling Process 
Vehicle owners or their lien holders who are requesting titles and registrations for their vehicles through the mail should send all the required documents to the County DMV office in the county in which the titled owner's residence address is located. Out-of-state dealers who have sold vehicles to Idaho residents and leasing companies who are leasing vehicles to Idaho residents may also send the title documents to the County DMV in which the titled owner resides.
 The following is a list of required documents and fees: 
Idaho Drivers License, Idaho Identification Card or Social Security Number. If Drivers License or Idaho Identification Card is not Idaho must have Out of State Drivers License or Identification Card and Social Security Number.
Idaho physical address.
The title (for used vehicles): must be properly released by the previous owner and lien holder (if any), or Manufacturer's Certificate of Origin (for new vehicles) must be properly assigned by the dealer to the new owner.
Bill of Sale: must include vehicle description, sales price, buyer's name, original signature of seller and date of sale.
Odometer Disclosure Statement required for any transfer of a motor vehicle less than 10 years old and under 16,000 pounds G.V.W. Disclosure may be entered on the title if there is a space for the odometer reading. If not, the disclosure should be made on a federally approved form.
Vehicle Identification Number Inspection completed by an officer of the law, DMV employee, military police officer or any Idaho licensed dealer is required for all new or out-of-state titled vehicles.
Power of Attorney authorizing the appropriate County DMV office to sign the application for Idaho title for the titled owner. The Power of Attorney must have a full description of the vehicle and have an original signature by the owner/applicant.
Fees: Sales Tax equal to 6% of the purchase price (minus trade-in if purchased from a licensed dealer), documentation that at least 6% sales tax was paid to the state in which the vehicle was purchased or that the vehicle was purchased at least three months prior to moving to Idaho and is already titled in the owner's name with an out-of-state address. (The latter exemption does not apply to businesses bringing vehicles into Idaho from a non-taxing state or for Idaho residents who have purchased a vehicle while temporarily living in a non-taxing state.)
Title fee $14.00.
Registration fees: Since exact fees may vary, please contact our office for this information.
Duplicate Titles and Corrections 
Only the owner or lien holder of record, or their agent, may apply for a duplicate title in Idaho. To properly complete the duplicate title application, the owner or lien holder needs to have both the vehicle identification number and the title number (these can be found on the vehicle's Idaho registration). If that information is not available, the owner or lien holder may request a record inquiry form from our office. Each record inquiry is a $7.00 fee. A computer printout showing the requested information will be provided to the requestor.
The duplicate application must be completed in full and the applicant's signature must be notarized. In the current address section, the address where the new title is to be mailed must be listed if it is different from the address on the Idaho title record.
If a lien holder is shown on the title record, the duplicate title will be issued with the same lien and will be mailed to the lien holder unless the application is accompanied by either an original or verified copy of a satisfaction of lien signed by the lien holder of record.
If the duplicate application is signed by a Power of Attorney, either an original or verified copy of the completed Power of Attorney form must be submitted. If a title has been issued with an incorrect name, lien holder name or vehicle description, the owner or lien holder must resubmit the title and include a signed letter of explanation. If the error was caused by faulty information provided on the original application, a $14.00 title correction fee is required.
A  duplicate title application  may be submitted by the owner or  lienholder of record,  transferring ownership to another party, for certain types of vehicles. This transaction is restricted to vehicles for which federal odometer requirements do not apply.   This includes:
Vehicles 10 years old or older
Vehicles over 16,000 pounds gross vehicle weight
Trailers
Off-highway vehicles (ATVs, motorbikes, UTVs, and snowmobiles that have no odometer device)
Vessels
The title fee for a duplicate title with transfer transaction is $14.00.
If the duplicate application is signed by power of attorney, the signature of the grantor on the power of attorney must be notarized.  Either the original Power of Attorney must accompany the duplicate application or a copy verified to be a true and correct.
Recording liens 
To record a lien on an existing Idaho title, the lien holder name and address must be printed in the new lien holder section of the title. The title and a $14.00 title fee should be mailed to our office so that the new lien holder information is recorded on the title. The new title when issued will be mailed to the new lien holder of record.