About Us
Bonner County is 1920 square miles with a 2010 population of 40,877. (Next U.S. Census will be in 2020)  91% of the county is land and 9% is water.
Bonner County EMS is a third-service rural/wilderness agency serving the residents and visitors of Bonner County with 9-1-1, critical care and interfacility transports. Our call volume is approximately 4,000 per year.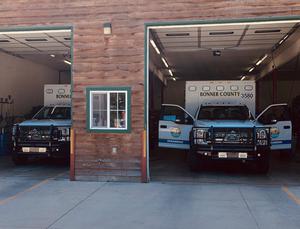 Bonner County EMS currently has three (3) stations that are staffed 24/7 with a fourth station planned to be open in late 2020. BCEMS currently staffs four (4) ALS ambulances 24/7 along with a ALS Supervisor chase vehicle. Station locations and assignments are as follows:
Station 1 (Sandpoint) 
3580 (ALS Ambulance) 3581 (ALS Ambulance) 3501 (ALS Chief Vehicle) 3503 (ALS Duty Officer Vehicle)
Station 2 (Priest River)
3582 (ALS Ambulance)
Station 3 (Sagle)
3583 (ALS Ambulance) 3561 (6x6 Off-Road Ambulance)
Station 4 (Ponderay) UNDER CONSTRUCTION
Opening Fall 2020
Bonner County EMS contracts several other agencies in the county to provide EMS response and transport.  Current contract partner agencies are Clark Fork Valley Ambulance, Schweitzer Fire District, Priest Lake EMTs and Kootenai County EMS System.
Current RFQs
Contact Us At: (208) 255-2194
Location and Hours
Bonner County EMS Station 1
521 North 3rd Ave
Sandpoint, Idaho 83864
Phone: (208) 255-2194
Fax: (208) 263-0349
Administration Office Hours
Monday – Friday 8:00 am – 4:00 pm
Bonner County EMS Station 2
83 Airfield Way
Priest River, ID  83856
Bonner County EMS Station 3
465838 Highway 95
Sagle, ID  83860