Emergency Medical Services (EMS)
About Us
Bonner County is 1920 square miles with a 2010 population of 40,877. (Next U.S. Census will be in 2020)  91% of the county is land and 9% is water.
Bonner County EMS is a third-service rural/wilderness agency serving the residents and visitors of Bonner County with 9-1-1, critical care and interfacility transports. Our call volume is approximately 4,000 per year.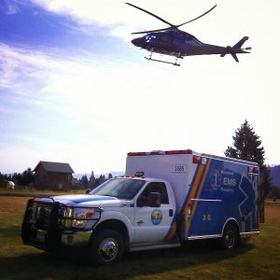 Direct operations are housed from stations in Sandpoint, Priest River and Sagle. We operate 24×7 out of one station in Sandpoint with 2 ambulances staffed at the Intermediate Life Support (ILS) and 1 Advanced Life Support (ALS) intercept vehicle, one station in Sagle with 1 ambulance staffed at the ALS level and one station in Priest River with 1 ambulance staffed at the ALS level.
Bonner County EMS contracts several other agencies in the county to provide EMS response and transport.  Current contract partner agencies are Clark Fork Valley Ambulance, Schweitzer Fire District, Priest Lake EMTs and Kootenai County EMS System.
Contact Us At: (208) 255-2194
Location and Hours
Bonner County EMS Station 1
521 North 3rd Ave
Sandpoint, Idaho 83864
Phone: (208) 255-2194
Fax: (208) 263-0349
Administration Office Hours
Monday – Friday 8:00 am – 4:00 pm
Bonner County EMS Station 2
83 Airfield Way
Priest River, ID  83856
Bonner County EMS Station 3
465838 Highway 95
Sagle, ID  83860
2016 Protocols:
Section 1000:  Operational Guidelines
Administration 1000-1009
1000 Intention and Description of Guidelines.docx
1002 Patient Care Treatment Guideline Format.docx
1003 Operational Guidelines Format.docx
1004 Procedures and Skills Format.docx
1005 Administrative Sign off.docx
Resource Management 1010-1029
1010 Guidelines for ALS Utilization.docx 1011
1013 Trauma Triage Flowchart.docx
Transport Destination Policy.docx
1017 Air Medical Transport.docx
1020 Use of On-Line Medical Control.docx
1021 Medical Control Contact Criteria.docx
Safety 1030-1039
1032 Significant Exposure.docx
1034 Transporting Children.docx
1035 Transporting Animals.docx
Scene Control 1040-1049
1040 Medical Authority.Chain of Command.docx
1041 On-Scene Medical Provider.docx
1042 On-Scene Physician Release Form.docx
1043 On Scene Off-Duty EMS Provider.docx
Medico-Legal 1050-1069
1050F Refusal of Treatment or Transport Form.docx
1050 Refusal of Treatment or Transport.docx
1051 Non Transport of Patient or Cancellation of Response.docx
1052A Idaho State Safe Haven Act.pdf
1053 Abuse, Neglect, Mandatory Reporting.docx
1054 Code Black, Do Not Resuscitate.docx
1055 Code Black, Dead on Arrival.docx
1056 Authorization to Provide NETS.docx
1057 Critical Care Transport (CCT).docx
1058 Crime Scene Preservation .docx
Section 2000: Assessment and Documentation Guidelines
2020 Written Reports.PCR Documentation.docx
2050 Pediatric Assessment.docx
2060 Assessment and Management of Pain.docx
Section 3000: Resuscitation
General Resuscitation 3000-3009
3001 Cardiac Arrest, Traumatic.docx
3007 Field Termination of Resuscitation(1).docx
Adult Resuscitation 3010-3019
3010 Ventricular Fibrillation-Pulseless VT.docx
3011 Pulseless Electrical Activity (PEA).docx
Post Resuscitation Management 3030-3039
3030 Post Resuscitation Care.docx
3031 Therapeutic Hypothermia.docx
Section 4000: Airway and Respiratory
Airway 4000-4009
4002 Respiratory Distress.docx
Asthma & Allergic Reactions 4010-4029
Section 5000: Cardiac Emergencies
General Cardiac 5000-5009
5000 Chest Pain Guidelines.docx
5001 Congestive Heart Failure.docx
5002 Hypertension, Hypertensive Crisis.docx
5004 Suspected Hyperkalemia.docx
Acute Coronary Syndromes 5010-5019
5011 STEMI Evaluation Tool.docx
Arrhythmias 5020-5029
5022 Narrow Complex Tachycardia.docx
5024 Wide Complex Tachycardia.docx
Section 6000: Trauma and Environmental Emergencies
6002 Suspected C-Spine Injury.docx
6014 Major Extremity Trauma.docx
6015 Simple Joint doslocation.docx
Section 7000: Medical, Neurologic & OBGYN Emergencies
Neurologic Emergencies 7000-7029
7000 Altered Level of Consciousness.docx
Medical Emergency Guidelines 7030-7079
7050 Vomiting and Diarrhea.docx
OBGYN Protocols 7080-7099
7080 Preeclampsia and Eclampsia.docx
7083 Care of the Newly Born(1).docx
7085 Obstetrical Emergency(1).docx
Section 8000: Behavioral and Toxicologic Emergencies
8000 Behavioral Emergency.docx
Section 9000: Procedures
Airway 9000-9019
9000 Oxygen Administration.docx
9004 Carbon Monoxide Oximetry.pdf
9005 Confirmation of Airway Placement-ETCO2.docx
9006 Preoxygenation Prior to Advanced Airway Management.docx
9009 Endotracheal Introducer (Bougie).docx
9010 Foreign Body Obstruction.docx
9011 Oral tracheal Intubation.docx
9012 Nasotracheal Intubation.docx
9013 Medication Assisted Airway-RSI.docx
9016 Nebulizer Inhalation Therapy.docx
9017 Nitrous Oxide Analgesia.docx
9018 Transport Ventilator Operation.docx
Medication Administration 9020-9029
9020 Aspirin Administration.docx
9021 Subcutaneous and Intramuscular Injections.pdf
9023 Oral Glucose Administration.docx
9024 Nitroglycerin Administration.docx
9026 Glucagon Administration.pdf
9027 ChemPack Administration.docx
Cardiac 9030-9039
9031 Cardiopulmonary Resuscitation (CPR).docx
9033 Cardiac External Pacing.docx
9035 Automated Defibrillation (AED).docx
9036 Defibrillation-Manual.docx
9038 Reperfusion Checklist.docx
Medical 9040-9049
9040 Blood Glucose Analysis.pdf
9042 Gastric Tube Insertion.docx
9047 Temperature Measurement.docx
OB-GYN 9050-9059
Trauma 9060-9069
9062 Spinal Immobilization.docx
9065 Dislocation Reduction.docx
Vascular Access 9070-9079
9070 Vascular Access- Blood Draw.docx
9071 Vascular Access- Existing Venous Catheters.docx
9073 Vascular Access- Peripheral Venous Catheter Insertion.docx
9074 Intraosseous line placement.docx
9075 Central Line Maintenance.docx
Wound Care 9080-9089
9081 Wound Care-Hemostatic Agent.docx
Section A - APPENDICES
A5- Prehospital Stroke Scale.docx
A6- Pain assessment Tools.docx
A8- Field Guide for ALS Procedures.docx
A9 Approved Medication List(1).xlsx