Railroad Crossing Information
UPDATE 9/05/2019 UPCOMING BNSF RAILROAD CROSSING CLOSURE AT HOMESTEAD RD WEDNESDAY SEPTEMBER 11TH.
BNSF will be closing Homestead Rd at the RR tracks on Wednesday, Sept 11th from 8:30 am to 5 pm for repairs.
UPDATE 8/19/2019 - UPCOMING BNSF RAILROAD CROSSING CLOSURE AT NORTH END OF GRANITE LOOP
BNSF will be closing the NORTH end of Granite Loop at the railroad tracks starting Wed, Aug 21st at 8 am and reopening Thursday, Aug 22nd at approx 5 pm.
UPDATE 7/31/2019 - BNSF WILL BE CLOSING THE HUCKLEBERRY MOUNTAIN ROAD RAILROAD CROSSING FOR REPAIRS ON 8/06/2019 FROM 8 AM - 6 PM.
SEE DETOUR MAP LINKS BELOW.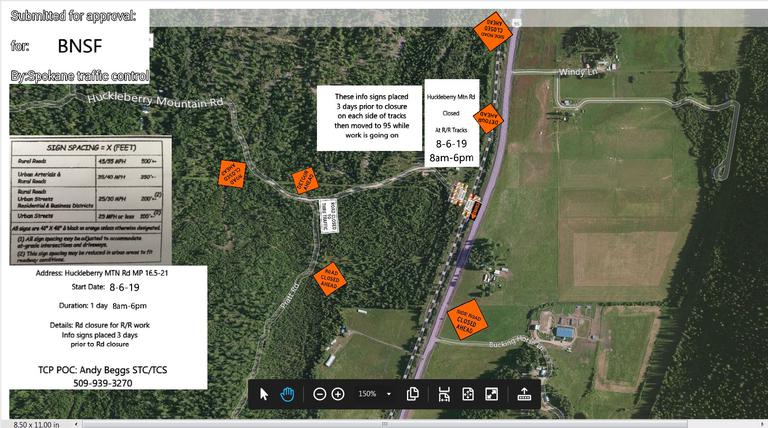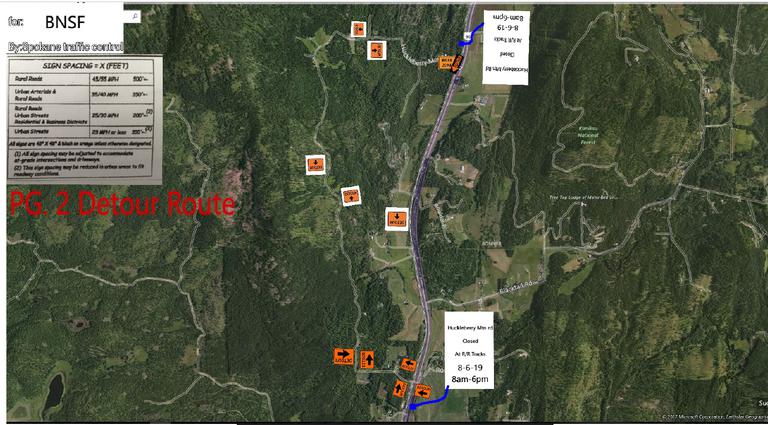 UPDATE 7/24/2019 - BNSF HAS RESCHEDULED THE RAILROAD CROSSING CLOSURE AT THE SOUTH END OF GRANITE LOOP, AGAIN, TO THURSDAY, AUGUST 1ST AT 8 AM AND REOPENING THE FOLLOWING DAY, FRIDAY, AUGUST 2ND AT 5 PM.
UPDATE 7/22/2019 - UPCOMING BNSF CROSSING CLOSURE MONDAY JULY 29TH - 30TH
BNSF WILL BE CLOSING THE RAILROAD CROSSING AT THE SOUTH END OF GRANITE LOOP STARTING MONDAY, JULY 29TH AT 8 AM AND REOPENING THE FOLLOWING DAY, TUESDAY, JULY 30TH. AT 5 PM. SEE DETOUR MAP LINK BELOW:
TCP- S end of Granite Loop 7-29-7-30(BNSF) Closure.pdf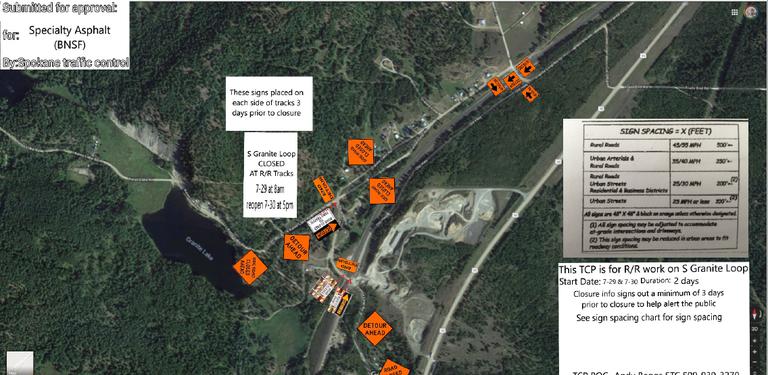 5/30/2019 - GRANITE LOOP RAILROAD CROSSING CLOSURE, SOUTH END UPDATE - BNSF ran into some mechanic issues today on the repair of the railroad tracks, therefore the railroad crossing at the south end of Granite Loop will be closed overnight until midday tomorrow. They apologize for the inconvenience.
UPDATE 5/28/2019 - BNSF WILL BE CLOSING THE RAILROAD CROSSING AT THE SOUTH END OF GRANITE LOOP THURSDAY, MAY 30TH FROM 8:30 AM TO 5:00 PM FOR REPAIRS. DETOUR SIGNS WILL BE POSTED.
UPDATE 5/03/2019 - COCOLALLA LOOP BNSF CROSSING WILL BE OPEN TODAY, BUT CLOSED WEDNESDAY, MAY 8TH FOR REPAIRS
BNSF will be closing the railroad crossing at the north end of Cocolalla Loop on Wednesday, May 8th from 7:30 am to 4 pm for railroad crossing repairs. Use south end of Cocolalla Loop detour.
UPDATE 5/02/2019 - COCOLALLA LOOP, NORTH END BNSF RAILROAD CROSSING CLOSED FOR REPAIRS
BNSF has closed the railroad crossing on the north end of Cocolalla Loop for today, tomorrow ( May 3rd) and Wed, May 8th from 7:30 am to 4 pm for railroad crossing repairs. Use south end of Cocolalla Loop detour.
UPDATE 4/03/2019 - HOMESTEAD RD RAILROAD CROSSING CLOSURE BY BNSF HAS BEEN RESCHEDULED FOR MONDAY, APRIL 8TH. PLEASE PLAN ACCORDINGLY
UPDATE 3/27/2019 - UPCOMING BNSF RAILROAD CROSSING MAINTENANCE CLOSURES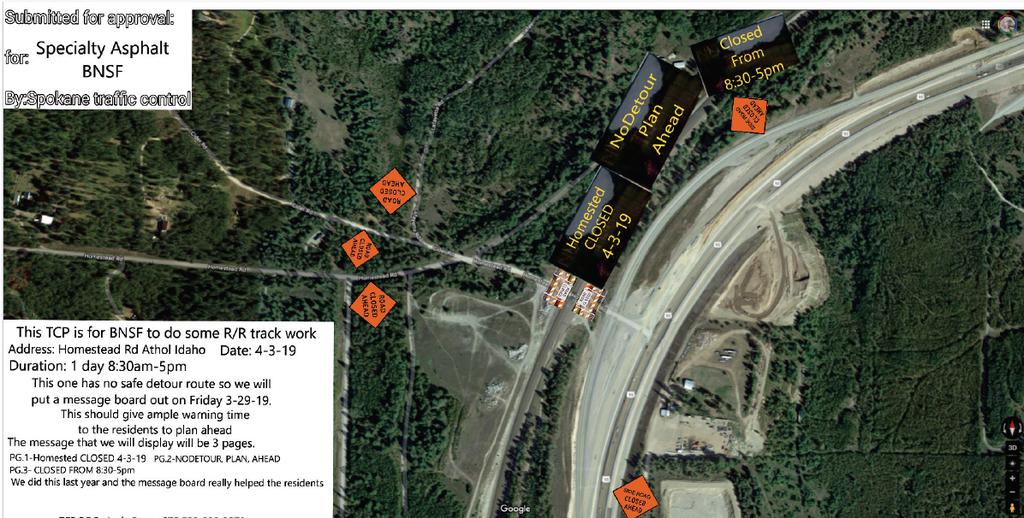 Homestead Road on 4-03-19 from 8:30 am -5 pm - No safe detour route, so public will need to plan ahead.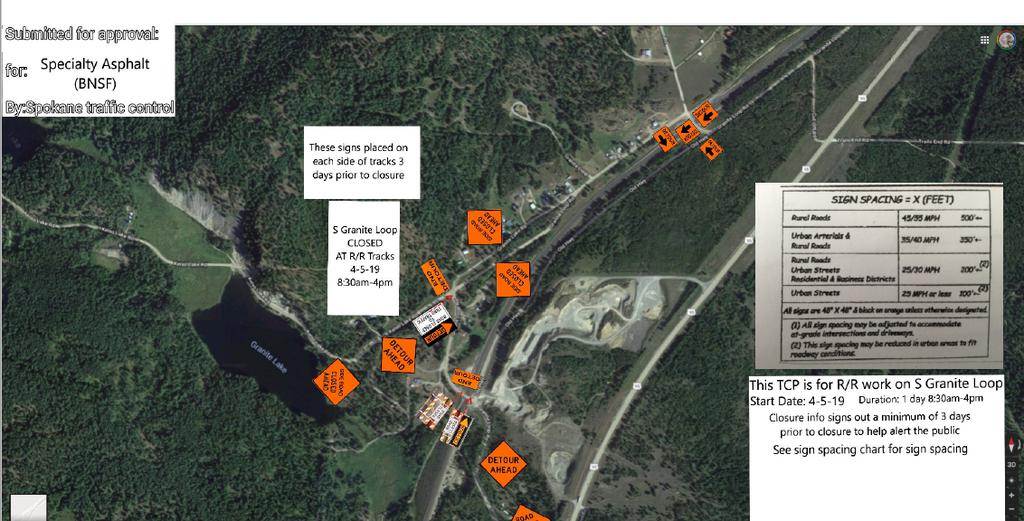 S Granite Loop on 4-05-19 from 8:30 am- 4 pm - Detour will be out the north end of Granite Loop.
7/02/2018 UPDATE -
UPCOMING BNSF RAILROAD CROSSING CLOSURES
Samuels Rd Tuesday, 7/03/18 to Friday, 7/06/18 8 am - 8 pm
Huckleberry Mtn Rd Wednesday, 7/04/18 to Friday, 7/06/18 from 8 am - 8 pm
N Granite Loop on Friday 7/06/18 from 8 am - 8 pm
6/27/2018 UPDATE - BOTTLE BAY RD - TRAINS BLOCKING RAILROAD CROSSING IN EXCESS OF 20 MINUTES
BURLINGTON NORTHERN SANTA FE RAILROAD
The number to call if a train is blocking the Bottle Bay Rd railroad crossing #058828R in excess of 20 minutes is 800-832-5452 BNSF DISPATCH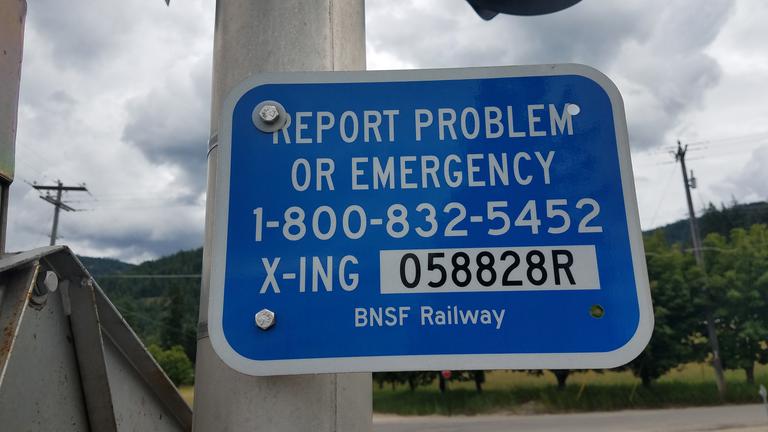 RAILROAD CROSSINGS IN BONNER COUNTY
"SEE TRACKS, THINK TRAIN"
According to Federal Railroad Administration Office of Safety Analysis, there are 149 open railroad crossings in Bonner County of which 85 are public and 64 are private.
One constant is sure in any type of train collision: The train wins. Motorists and pedestrians often lose at the cost of their lives. With 148 railroad crossings in Bonner County and freight traffic projected to possibly double in this corridor, the threat is ever-present.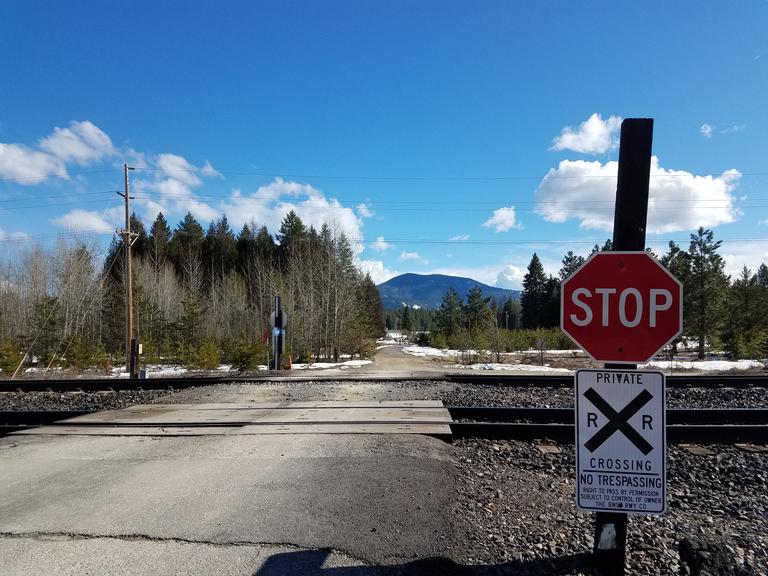 About every 3 hours, a person or vehicle is hit by a train.
Operation Lifesaver is working to change people's behavior around railroad tracks and crossings with the national public awareness campaign SEE TRACKS? THINK TRAIN! link http://www.seetracksthinktrain.org/
Since Operation Lifesaver, a nationwide public information program, was introduced in 1972, train/motor vehicle collisions have declined 83 percent. Still, a person or a vehicle is hit by a train about every three hours, according to the organization's website, www.oli.org.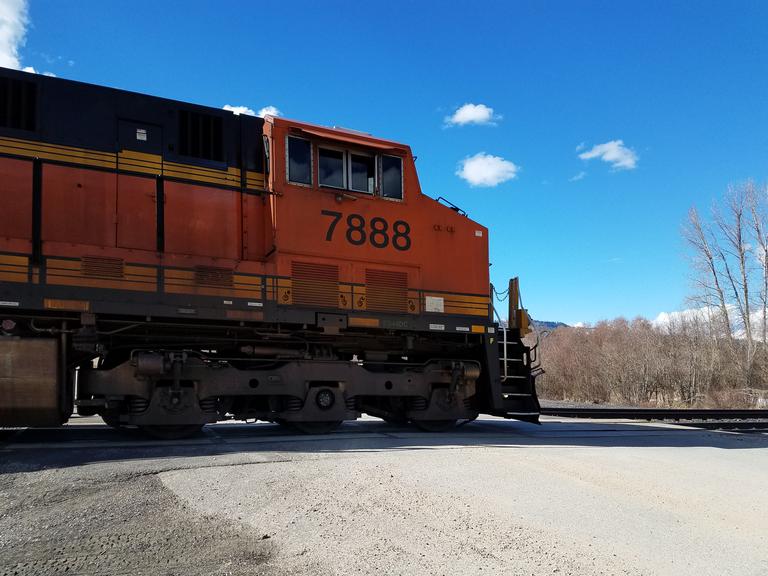 Motorists are 20 times more likely to die in a crash with a train than a crash with a vehicle . The weight ratio is 4,000-to-1 . A train engineer can do little else than blow a whistle – an average freight train traveling 55 mph takes a mile to come to a stop. To put that into perspective, a freight train's stopping distiance is nearly the length of 18 football fields . As trains are ever-present around Bonner County, motorists must heed the danger. Operation Lifesaver's slogan says, "See tracks. Think train." Look up OPERATION LIFE SAVER at www.oli.org for safety tips and more information.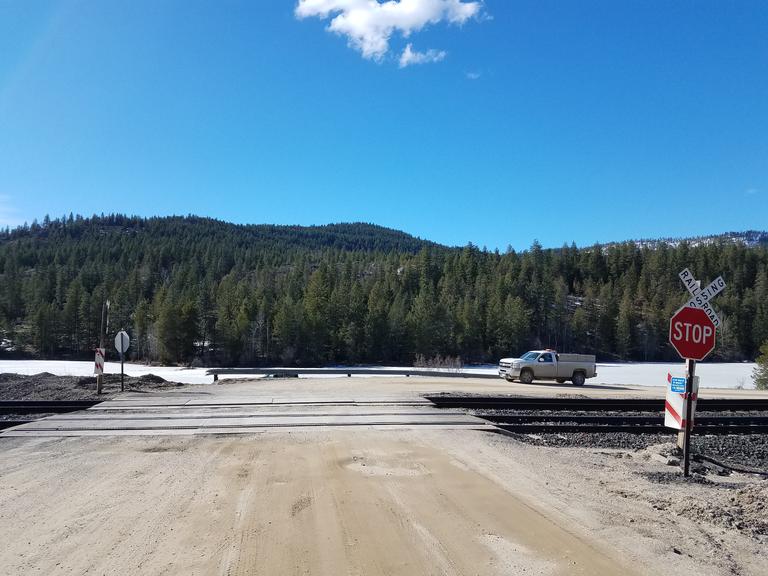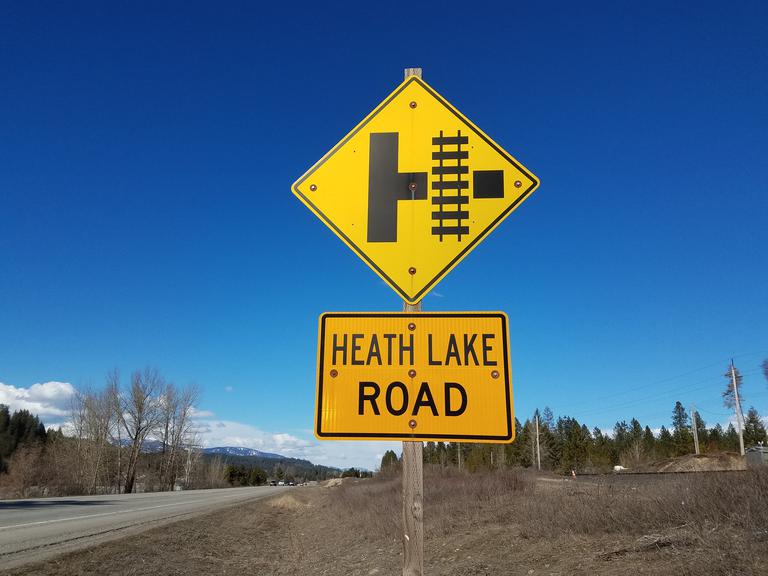 HEATH LAKE RD RAILROAD CROSSING AT HIGHWAY 95 IN SAGLE MAY BE CLOSED BY ITD AND BURLINGTON NORTHERN RAILROAD WITHIN THE NEXT YEAR
More information about Bonner County railroad crossings with incidents or accidents can be found at this Federal Railroad Administration Office of Safety Analysis link: http://safetydata.fra.dot.gov/OfficeofSafety/publicsite/crossing/XingLocResults.aspx?state=16&countycity=017%2c&railroad=&reportinglevel=ALL&radionm=County&street=&xingtype=%25&xingstatus=1&xingpos=%25
The lights and crossing arms placed at crossings cost approximately $250,000 each. Only 19 crossings in Bonner County are currently controlled with crossing arms. The ITD statewide budget is only $2.5 million for rail safety each fiscal year, or about $500,000 per district.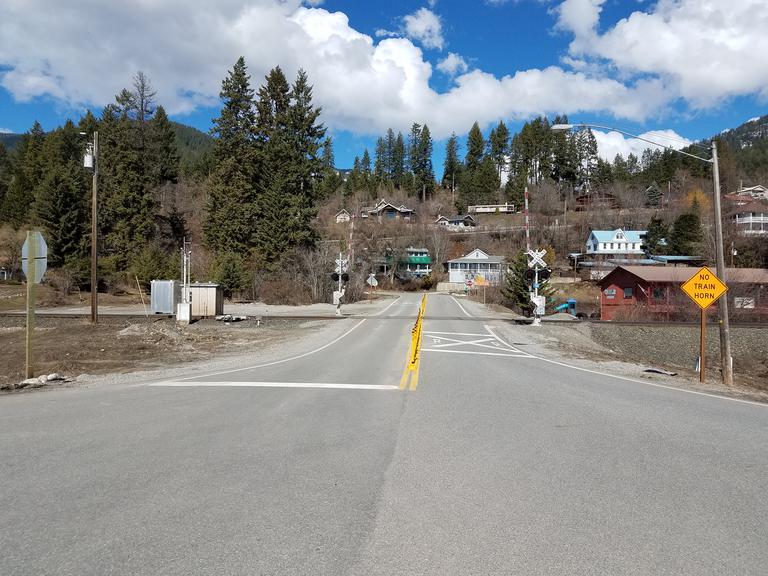 CENTENNIAL BLVD RAILROAD CROSSING IN HOPE
RAILROAD CROSSING SAFETY TIPS
Many drivers pay little or no attention at highway-rail crossings they drive across day after day because they never see a train there. The following safety tips can help save a life.
Trains do not run on set schedules. They can be on any track, at any time, going in either direction
When locomotive engineers see a vehicle or person on the tracks in the path of their train, they can only sound the warning horn and apply the emergency brakes. A train in emergency braking will stop, but not in time to avoid this collision. The average freight train consisting of 100 cars and weighing anywhere from 12 million to 20 million pounds takes over a mile to stop in emergency braking. There are brakes on every wheel, but it takes that long for all of those brakes to overcome the momentum of the tremendous weight pushing the train.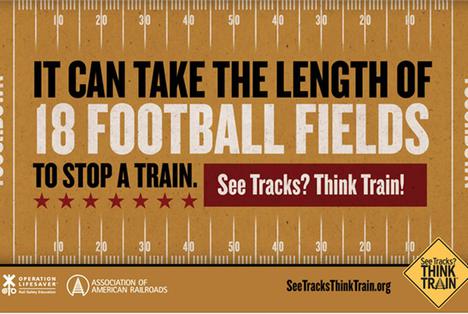 Always yield the right of way to the train. The train cannot yield to you.
More than half of all motor vehicle-train collisions occur at crossings equipped with the automatic signals. It's because some drivers choose to drive around the gates or through the flashing red lights because they believe they can beat the train, or they assume a stopped train has activated the signals or the signals are malfunctioning.
Never ignore active warnings at crossings.
Locomotives are huge;17 feet high and 10 feet wide. As a result, they appear to be traveling much slower than we think when viewed from a slight angle at the crossing. The combination of the size and angle create this illusion. The parallel lines of the rails converging toward the horizon contribute to the illusion and fool our minds into thinking the train is farther away than it actually is. It is virtually impossible to accurately judge the speed of a train when these combinations of illusions are present.
Trains will arrive at a crossing faster than you anticipate.
One in four crashes occurring at highway-rail crossings takes place when vehicles run into the side of the train. Often, it's because the vehicle is traveling too fast for conditions, such as darkness, rainy weather or fog. Many drivers "overdrive their headlights." This means driving too fast to be able to stop in the distance illuminated by your headlights. By the time drivers see the train at the crossing, it's too late to avoid the crash. In other instances, there may be high levels of noise in the vehicle, which distracts the driver from noticing the train's warning devices.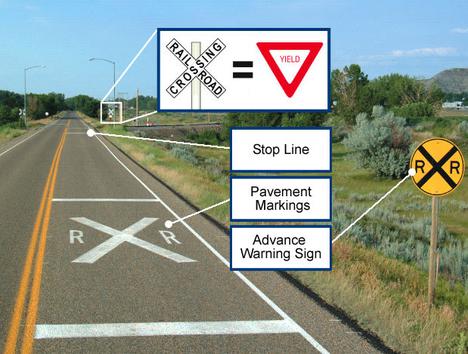 Look and listen when you see advance warning signs indicating a rail-highway crossing.
Drivers who pass vehicles when approaching a highway-rail crossing run the risk of a collision at the crossing. The vehicle being passed may obstruct a clear view of the tracks, or vehicle speed while passing may be too great to stop in time.
Don't get trapped on railroad crossings.
Many vehicles get trapped on the crossing, between other vehicles, and end up getting hit by a train or are abandoned by drivers just before they're destroyed.
Before starting across the tracks, be sure there's room to get completely across.
Many crossings are on a surface higher than the roadway. Shifting gears with a manual transmission while going across this raised surface may cause the vehicle to stall on the tracks. If your vehicle is ever stalled or trapped on the tracks and a train is approaching, quickly get yourself and all other passengers out! Don't try to take any other items with you. When the train strikes the vehicle it will send flying metal and glass ahead of and outward from the locomotive. Many people have been seriously injured and even killed because they ran the wrong direction.
When running away from a vehicle stuck on tracks, run away from the tracks at an angle in the direction of the approaching train.
If a train is not approaching when a vehicle is stuck on the tracks, be sure to get yourself and all other passengers out of the vehicle and to a safe location. At crossings there are signs with a toll-free number to call the railroad directly and warn them of stalled vehicles or other problems at the crossing.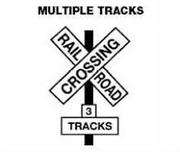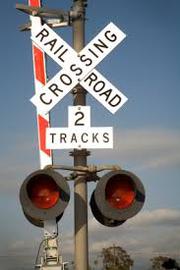 When crossing has more than one track, don't try to cross immediately after the end of the train passes -- there may be another train approaching on the second track.
Many crossing crashes have resulted because of impatience or inattentiveness at multiple-track crossings. You will always know how many tracks are at the crossing by observing a sign posed under the crossbuck. Directly below the crossbuck is a sign that indicates the number of tracks present if there are multiple tracks at the crossing.
Stay off railroad property and stay safe.
Some people believe railroad tracks are public property. Railroad tracks, railroad service roads, and other railroad right of way are often used by joggers, hikers, people walking their pets, or as a pathway to ride motorcycles or other all-terrain vehicles or a wide variety of other activities. The danger with these activities on or near railroad tracks is these people are concentrating on their own activities not a train! Many joggers wear headphones and cannot hear a train warning horn. Motorized vehicle noise also drowns out the locomotive horn. Many people who do not hear the warning fail to escape the danger. More importantly, railroad tracks, service roads, and right of way are private property and only persons authorized by the railroads can be on that property.