Road Projects
Gypsy Bay Bridge Closure starting Monday, Sept 28th
The bridge at the 2040 blk of Gypsy Bay Rd will be closed from Monday, Sept 28th to approximately Oct 10th for a rebuild. Please use Moonshadow Rd for the detour.
Paving on N Kootenai Rd from the intersection of Firestone Ln to Selle Rd. Starting Monday, Sept 28th.
Paving will start on N Kootenai Rd from the intersection of Firestone Ln to Selle Rd on Monday Sept 28th. The project will take approximately one week. Please expect delays.
Road Closure Notice
Helen Thompson Rd will be closed on Sept 16th @ Johnsons Creek from 7:30 am to noon
W Shingle Mill Rd will be closed on Sept 17th at approximately 100' south of Bobtail Rd from 8am to 4pm. Both for culvert replacements.
UPDATE 9/02/2020 - MCABEE FALLS BRIDGE WORK UNDERWAY - CREWS ARE REPAIRING THE DELAMINATED CONCRETE BRIDGE DECK WITH GROUT IN PREPARATION OF APPLYING AN EPOXY SEAL OVER THE ENTIRE BRIDGE DECK.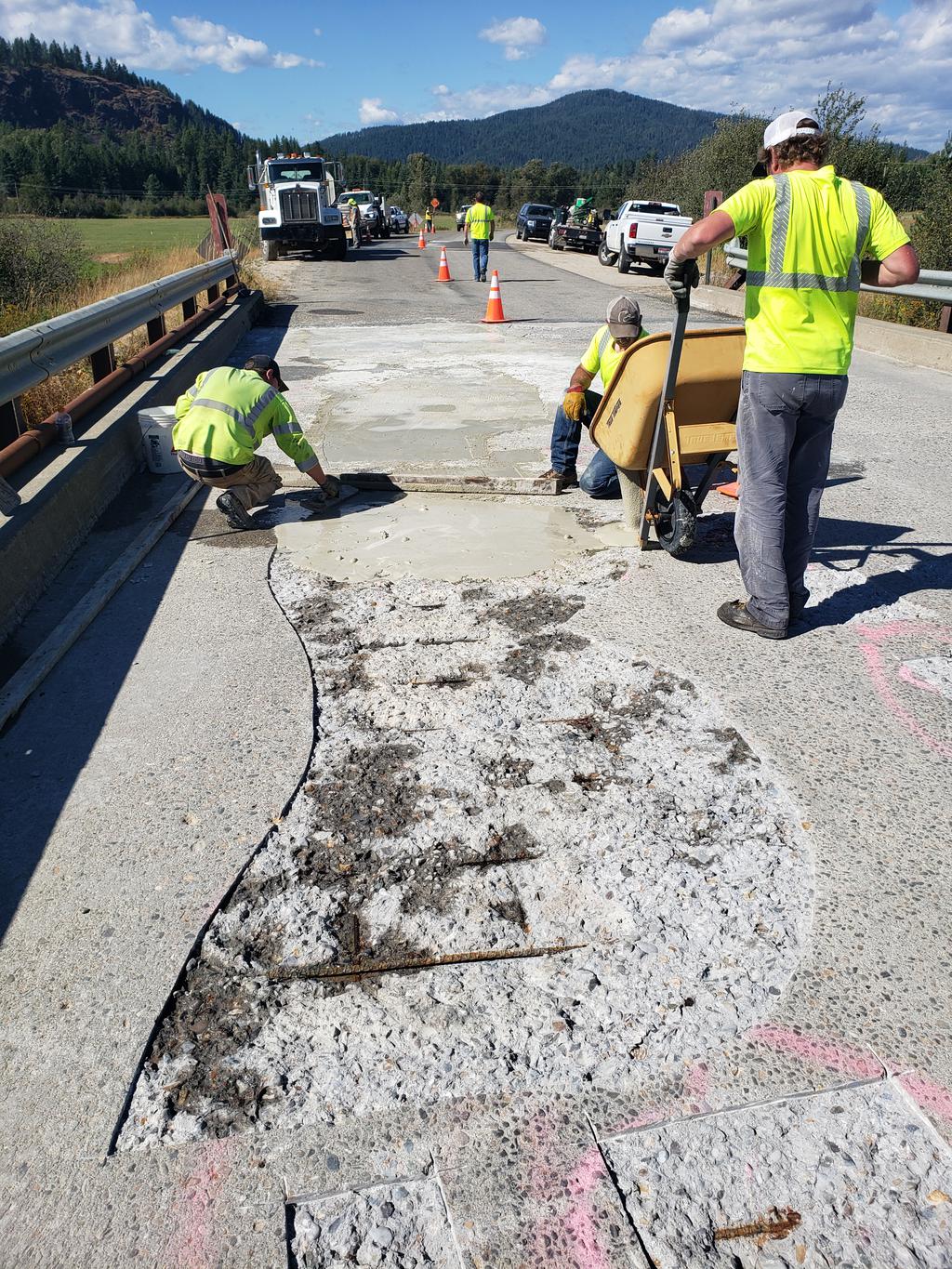 UPDATE 8/12/2020 - RAPID LIGHTNING BRIDGE #5 REPLACEMENT PROJECT DESIGN OPTIONS
THIS BRIDGE REPLACEMENT PROJECT IN THE 5900 BLOCK OF RAPID LIGHTNING ROAD IS PLANNED TO BE COMPLETED IN THE NEXT 6 YEARS, BUT THE CONSTRUCTION DESIGN OPTION NEEDS TO BE SELECTED WITHIN THE NEXT MONTH. THE PROJECT IS PLANNED TO BE COMPLETED IN 2026 WHEN IDAHO DEPARTMENT OF TRANSPORTATION HAS IT SLOTTED FOR FUNDING, UNLESS FUNDING COMES AVAILABLE SOONER. THE WORK WILL BE CONTRACTED OUT AND THE CONSTRUCTION TIME FRAME IS MAY THROUGH OCTOBER IN YEAR OF CONSTRUCTION (TO BE DETERMINED). PUBLIC COMMENT MAY BE MADE TO THE ROAD AND BRIDGE OFFICE IN WRITING OR VIA EMAIL TO MATT.MULDER@BONNERCOUNTYID.GOV OR STEVE.KLATT@BONNERCOUNTYID.GOV.
SEE IMAGES BELOW FOR EACH OF THE 3 OPTIONS.
OPTION 1 - BONNER COUNTY ROAD DEPARTMENT *PREFERRED OPTION DUE TO COST - CLOSE ONE LANE TO BUILD HALF OF THE NEW BRIDGE THEN USE NEW SECTION WHILE THE REMAINING BRIDGE LANE IS BUILT. INCLUDES A TEMPORARY TRAFFIC SIGNAL AT EACH END OF CONSTRUCTION ZONE FOR 1 LANE TRAFFIC. WITH APPROXIMATELY A 3 MINUTE WAIT FOR ALTERNATE LANE OF TRAFFIC TO PROCEED THROUGH THE CONSTRUCTION ZONE.
OPTION 2 - NORTH ROUTE BUILD, KEEPING EXISTING BRIDGE AND ROAD OPEN DURING CONSTRUCTION OF NEW ROAD AND BRIDGE. - RESULTS IN 25% INCREASE IN COST OVER OPTION 1 DUE TO STREAM BED RELOCATION, BUILDING OF NEW ROAD BED AND INCREASED RIGHT OF WAY PURCHASE.
OPTION 3 - SOUTH ROUTE BUILD, KEEPING EXISTING BRIDGE AND ROAD OPEN DURING CONSTRUCTION OF NEW ROAD AND BRIDGE. - RESULTS IN 20% INCREASE IN COST OVER OPTION 1 DUE TO BUILDING OF NEW ROAD BED AND INCREASED RIGHT OF WAY PURCHASE.
Update 7/23/2020 - Our crews are busy rebuilding and resurfacing roads throughout the County this summer. Chipseal application continues in District 1 in the Blanchard area next week. Wooded Acres Drive is slated for BST application in mid to late August. Chip sealing equipment is shared by the three road districts and goes to District 2 following repairs. District 2 roads to be done include E and W Cedar Ln, Eastshore Rd, Freeman Lake Rd, Hoodoo Loop, Hoop Loop and LeClerc Rd. District 3 will follow with River Rd, Lightning Creek Rd, East Spring Creek Rd, River Lake and N River Lake Dr.
7/01/2020 Message from Steve Klatt, Director, Road and Bridge Department
Reflections – Summer 2020
The past three months have been a most interesting time in the life of the Bonner County Road Department. Mid-March found us shuffling half crews on and off for the next six weeks, during which our summer construction schedule began to slip immediately. By the time we got our full crews working together again, Mother Nature decided to play pranks upon us with frequent and persistent rain events. Now, at the end of June, we are finishing our mag chloride treatments of early June.
The interruptions and rain delays have also upended our construction schedules for this year. We have been able to get a substantial amount of work done on North Kootenai Road, brushing work done up on Eastshore Road at Priest Lake, and several smaller roads graveled near Cocolalla Lake that have been waiting a few years. A project impacted by this year's interruptions has been our BST project for Lakeshore Drive being split into road improvements later this year and surface treatment being completed next summer.
Chip sealing projects will get underway right after the Fourth in the Sagle area, move out to the Clark Fork area and then up to Priest Lake. Depending on what little tricks Mother Nature is hiding up her sleeves, we should be done with chips around the middle of August. We will have a crew working on brushing and ditches up Baldy Mountain Road, plus a contractor clearing right-of-way on Woodland Drive. We are working on setting up a guardrail project for an area on Denton Road and the striping of roads will get under contract before too much longer.
Bonner County got a unique opportunity to participate in planning efforts funded by the Federal Highway Administration to create a Local Roads Safety Plan. The numbers of serious and fatal crashes on local roads is disconcerting at best and I have wanted to study our crash data to determine if similarities in crashes exist that might be treated systemically for improved driver safety. This effort has been made a bit cumbersome by COVID 19 restrictions on travel this year, but getting traffic safety planners to help us analyze our road system is a good starting point. We have been awarded a grant for right-of-way clearing of hazard trees in a couple of years and that will help reduce the severity of future crashes.
We are working on a project to replace a small bridge that is failing out on the Gypsy Bay Road after summer traffic slows down and have a bridge deck restoration job scheduled up on Peninsula Road once we begin to have some warm days. There are three more intersection lights we will have installed on Highway 95 south of Sandpoint later this summer and will continue to expand our lighted intersection program each year. Hard to believe, but we are beginning to gather up our stockpiles of anti-skid material for winter already in a program that costs nearly $2 million each season. It has been good to add three new trucks to our aging fleet.
Let's all drive safely and have patience with our crews working to improve your county roads.
Steve Klatt, Director
UPDATE 11/07/2019 DUFORT ROAD INTERSECTION WIDENING PROJECT HAS BEEN COMPLETED.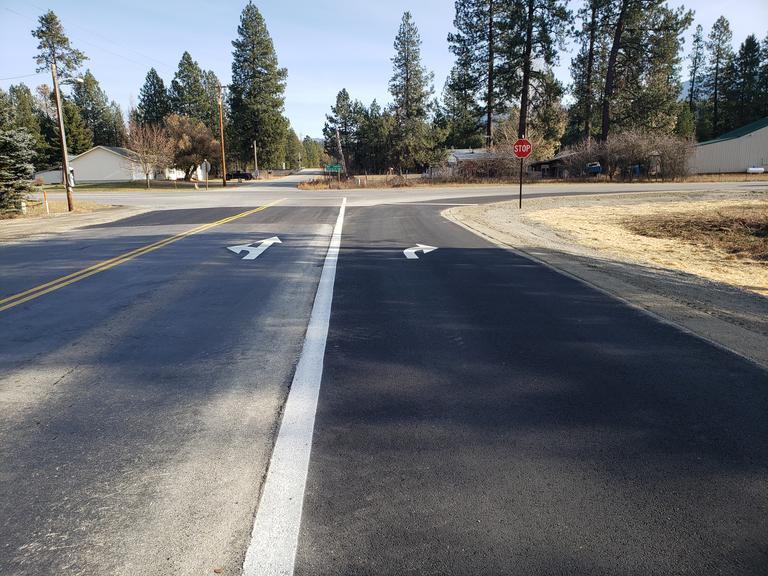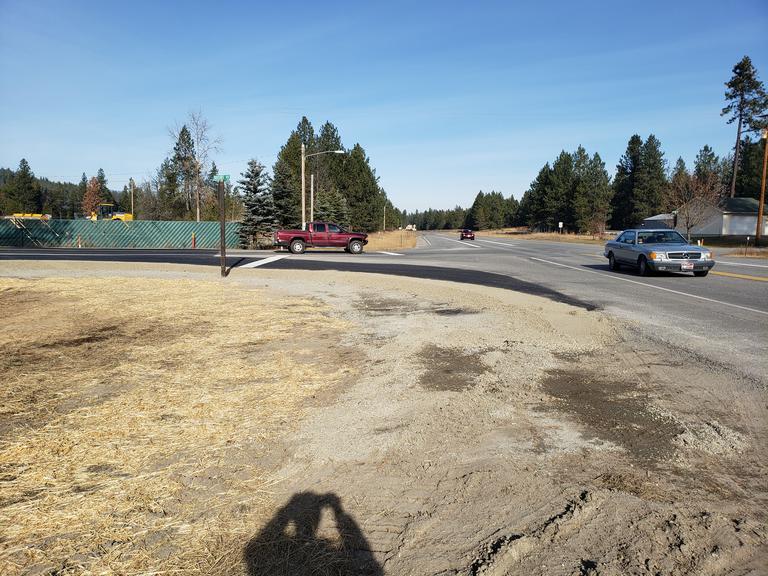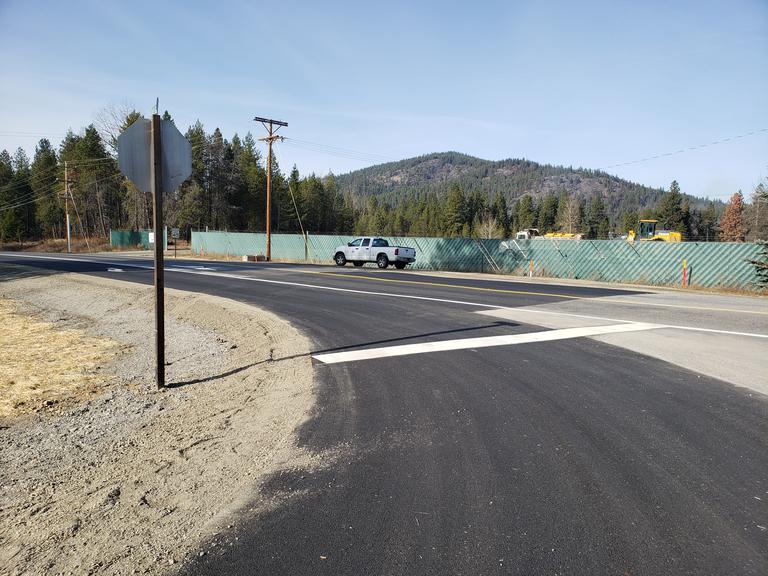 UPDATE 10/25/2019 - DUFORT ROAD INTERSECTION WIDENING PROJECT CONTINUES. PAVING IS PROJECTED TO TAKE PLACE NEXT THURSDAY, 10/31/2019.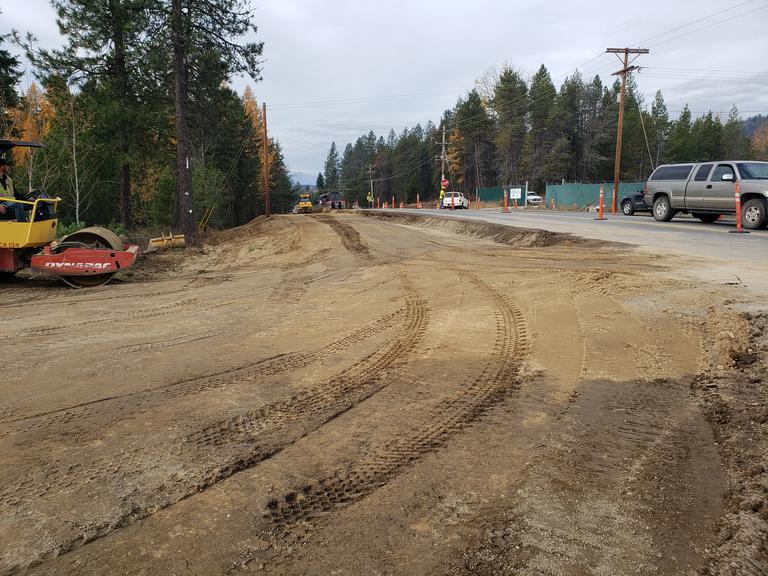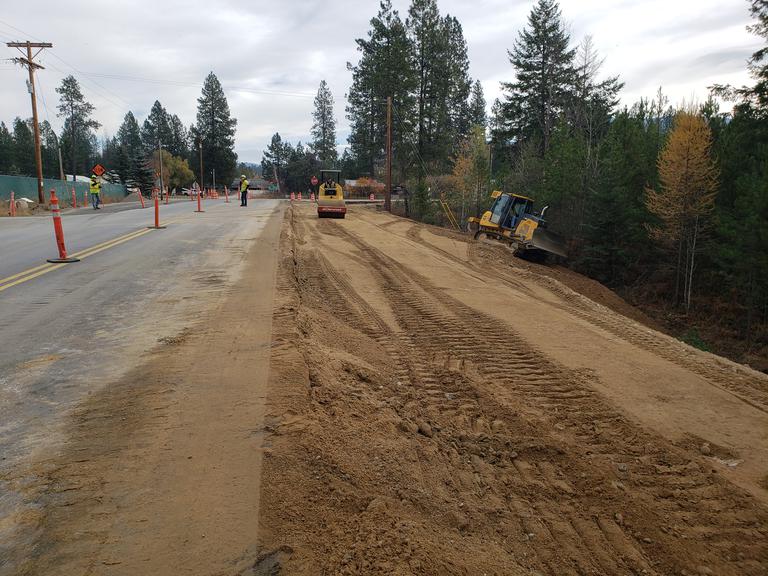 UPDATE 10/24/2019 - HIGHWAY 95 - DUFORT ROAD INTERSECTION TURN LANE ADDITION - WORK IS UNDERWAY ON THE TURN LANE ADDITION TO DUFORT ROAD AT HIGHWAY 95 INTERSECTION WITH MOST OF THE WORK SLATED TO BE COMPLETED IN THE NEXT WEEK OR TWO.
BEFORE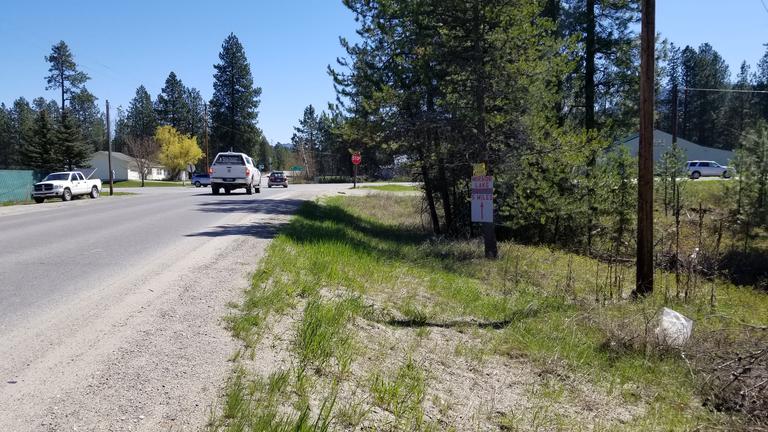 CURRENTLY WORK IS UNDERWAY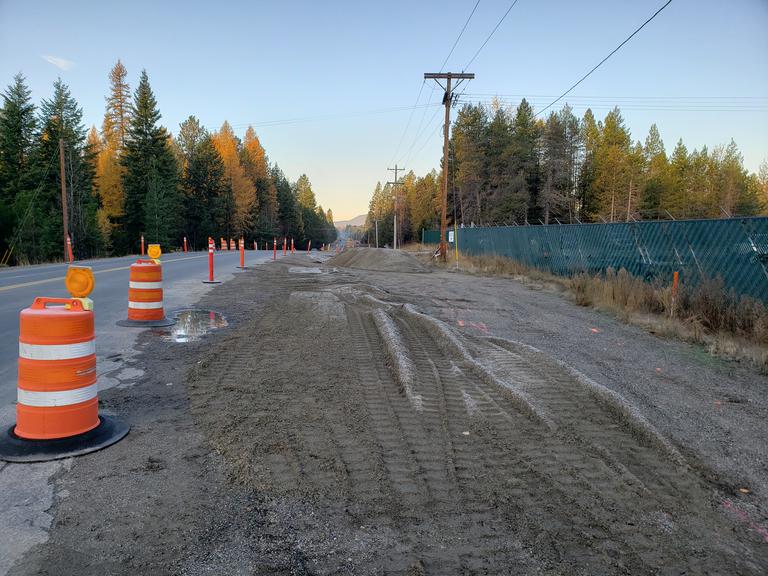 UPDATE 10/10/2019 - DICKENSHEET ROAD - NEW GUARDRAIL INSTALLATION COMPLETED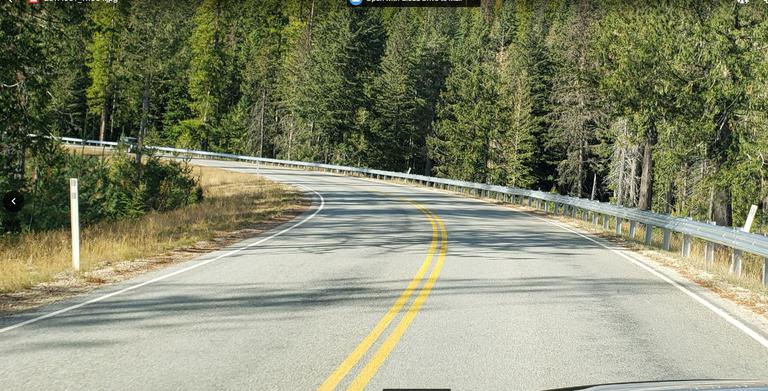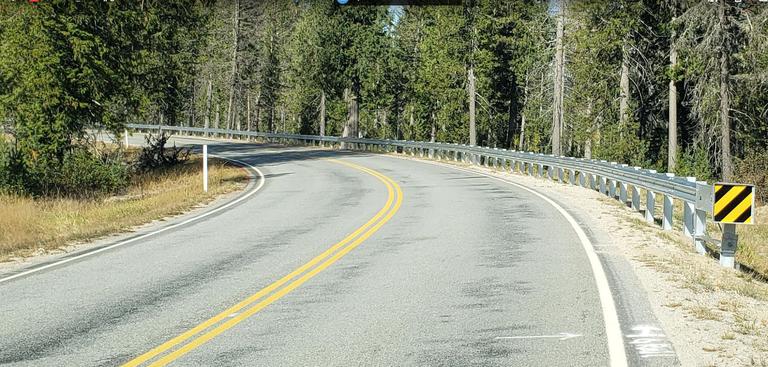 UPDATE 8/14/2019 - WOODED ACRES ROAD WILL BE CLOSED FOR MAINTENANCE FROM TUESDAY, AUGUST 20 THROUGH THURSDAY AUGUST 22. THE DETOUR VIA WESTWOOD HEIGHTS RD, LOWER MUSKRAT SPUR, MUSKRAT LAKE RD, GYPSY BAY RD TO LAKESHORE DRIVE WILL BE OPEN.
SEE DETOUR MAP BELOW: WOODED ACRES ROAD CLOSURE - DETOUR MAP.pdf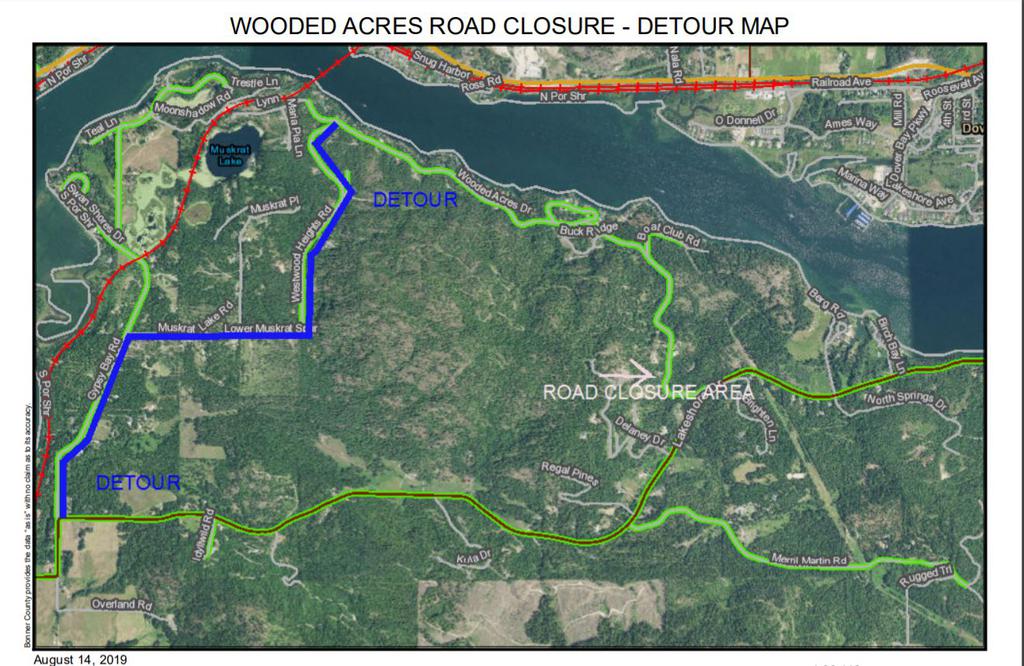 UPDATE 8/08/2019 - GROUSE CREEK BRIDGE REHABILITATION PROJECT BEGINS MONDAY, AUGUST 12TH.
Expect delays as this project will be ongoing for a while. See map below: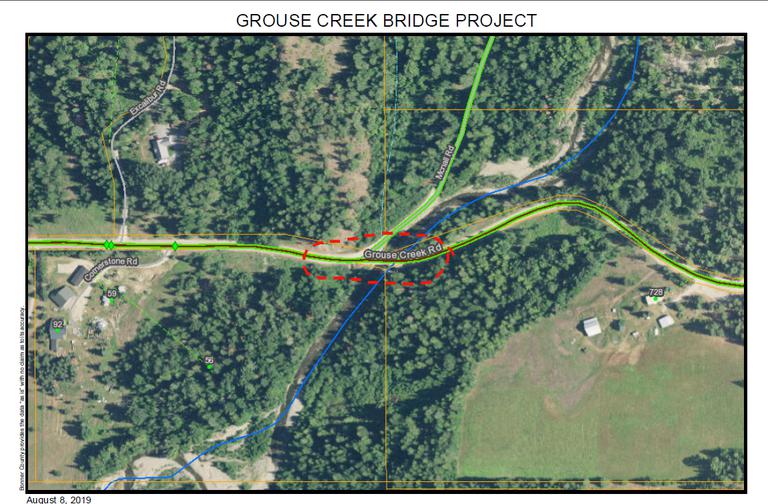 UPDATE 8/08/2019 - CHIPSEALING PROJECTS IN DISTRICT 3 BEGIN NEXT WEEK
Upcoming chip seal projects in District 3 beginning Monday, August 12, 2019 are as follows:
1) Upper Pack River Rd 7.1 Miles
2) Elmira Rd .4 Miles
3) Samuels Rd 3.67 Miles
4) Grouse Creek Cutoff 1.2 Miles
5) Jacobson Rd 1.52 Miles
6) Lower Pack River Rd 3.03 Miles
Pilot cars will be leading traffic through, expect delays.
UPDATE 11/01/2018 - SUNNYSIDE ROAD WILL REOPEN TODAY BY 5 PM. THE ASPHALT PATCH WILL BE COMPLETED NEXT WEEK, WEATHER PERMITTING.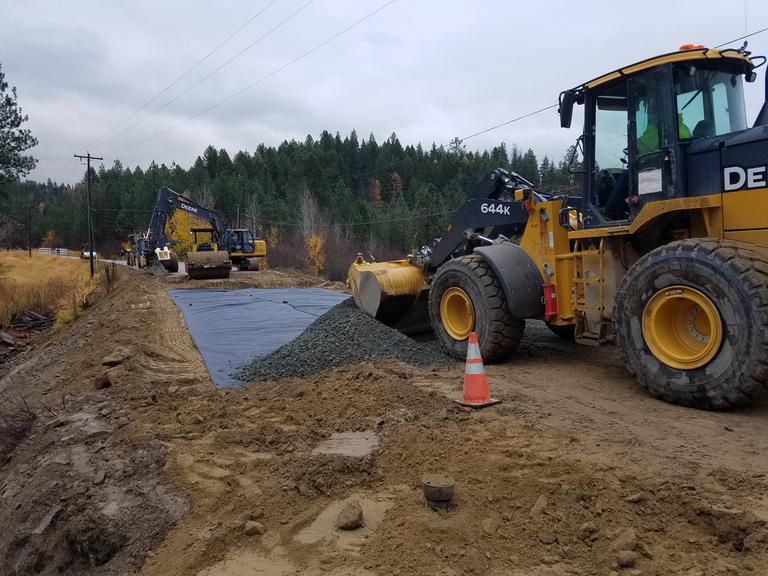 UPDATE 10/31/2018 - SUNNYSIDE RD - DAVIS SLOUGH CROSS-CULVERT INSTALLATION PROGRESS
This project is progressing nicely. The culvert is installed and compaction of fill is underway. Weather permitting, Sunnyside Road should be reopened Friday by 4 pm.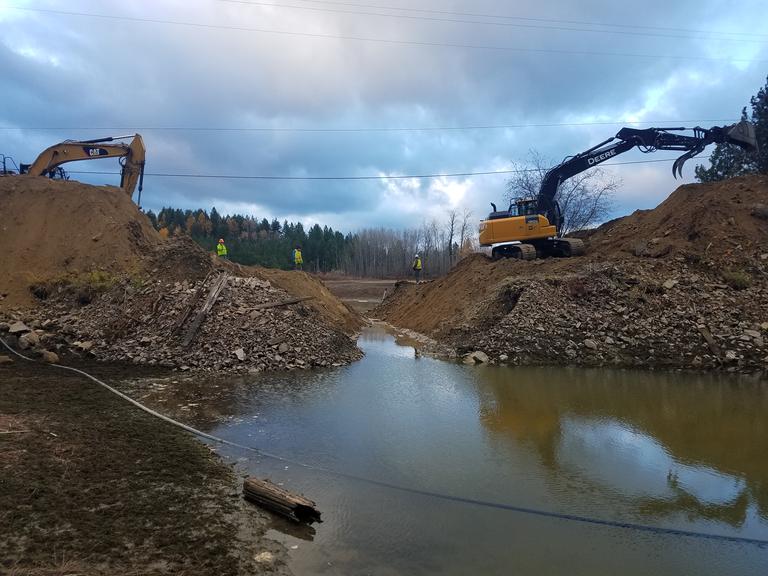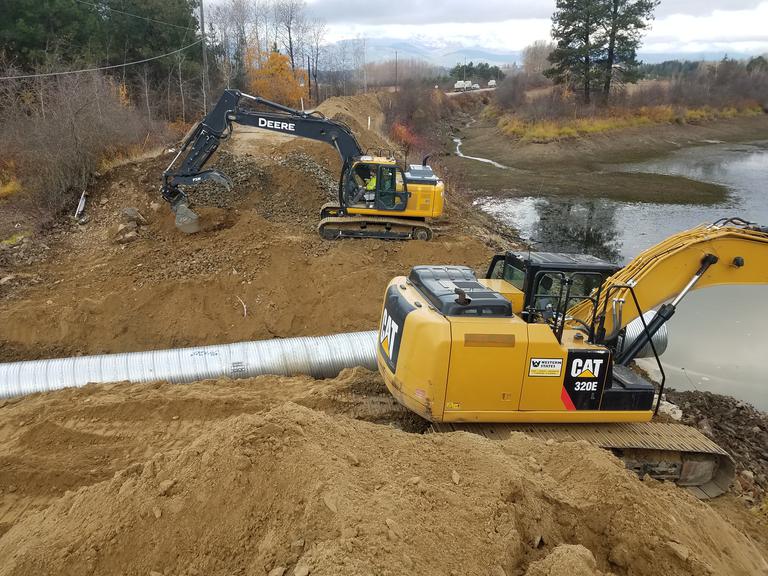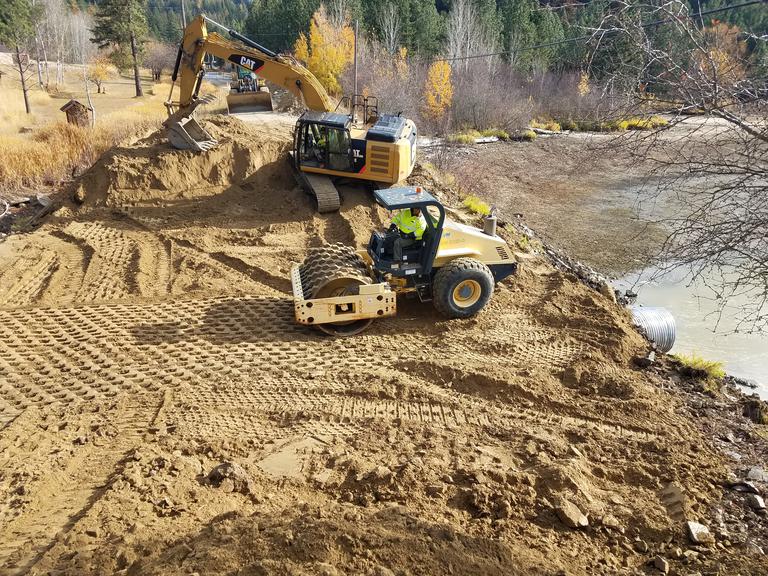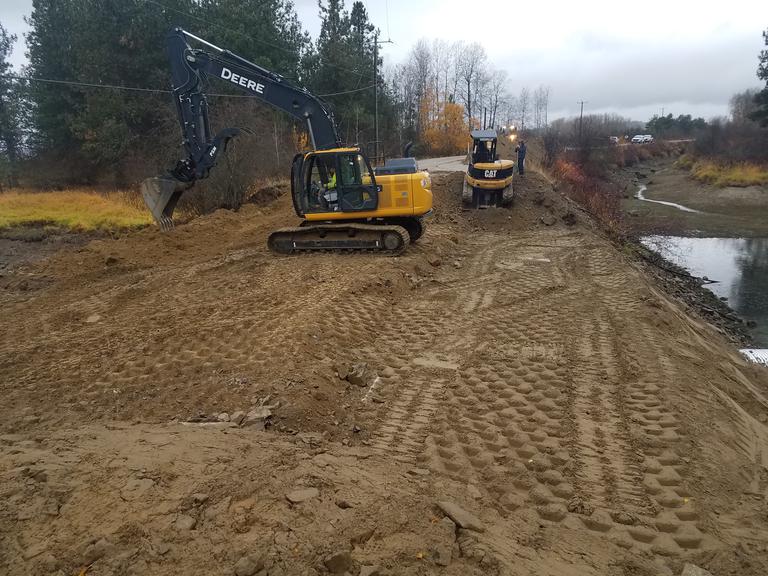 UPDATE 10/11/2018 - UPCOMING CLOSURE OF SUNNYSIDE RD AT MILE MARKER 1.7
FROM 8AM MONDAY, OCTOBER 29TH THRU FRIDAY NOVEMBER 2ND AT 4PM. ROAD CREWS WILL BE INSTALLING A HUGE CROSS CULVERT AT DAVIS SLOUGH. DETOUR WILL BE VIA THE EAST END OF SUNNYSIDE RD. (CREWS IMPROVED THE EAST END ROAD THIS PAST SUMMER.)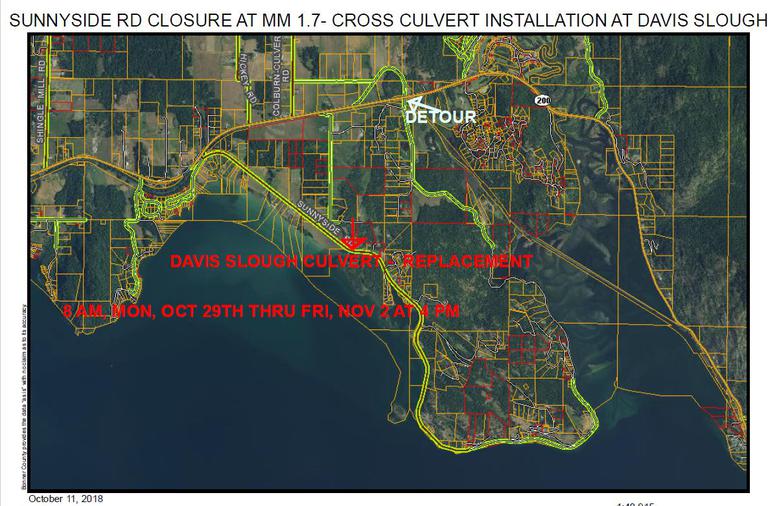 UPDATE 9/21/2018 - BOTTLE BAY INTERSECTION AT HIGHWAY 95 IS NOW OPEN

Bonner County Road & Bridge Director, Steve Klatt congratulates Randy McDougall of Earthworks Northwest on their substantial completion of the Bottle Bay Rd/ Highway 95 Intersection Safety Project. The intersection has been reopened.
UPDATE 9/07/2018 - BAYVIEW RD REBUILD PROJECT
Today, the contractor is working on Bayview Rd driveway transitions so property owners have quality access until the next phase of the road project is completed. Paving will begin Tuesday, September 18th and continue through September 23rd.
UPDATE 9/05/2018 BOTTLE BAY HIGHWAY 95 INTERSECTION PROJECT
Bike path tunnel assembled and back fill is still underway. The project adds a designated turn lane and widens the intersection in addition to moving the bike path. It was slated to be completed October 1st, but is expected to be finished later this month. The contractor is making good progress rebuilding the roadway. Paving, painting lanes and installation of guard rails will need to be completed prior to reopening the intersection.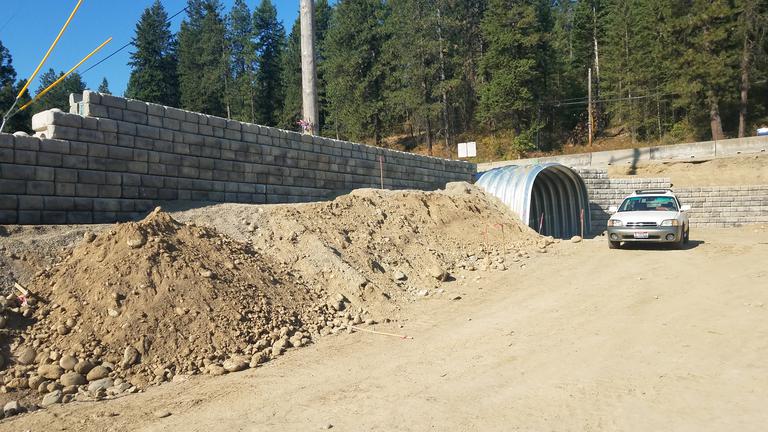 VIEW FROM NORTH SIDE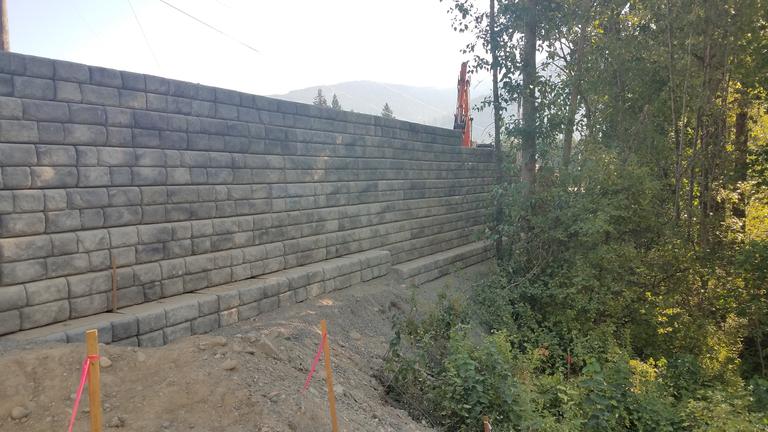 VIEW OF GRAVITY WALL PRECAST BLOCK FROM SOUTH SIDE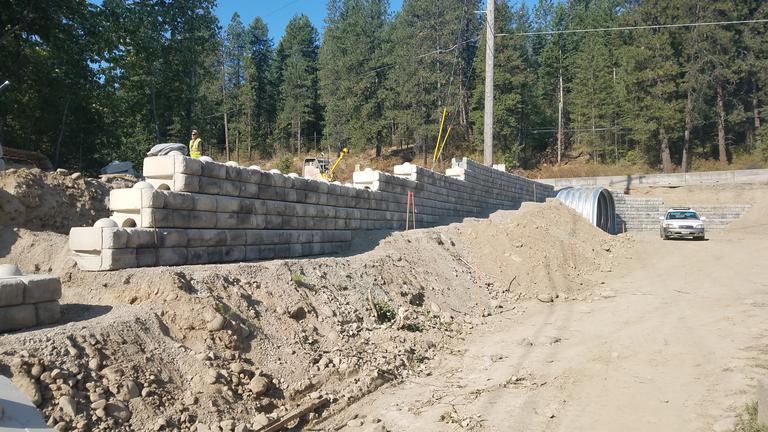 PRECAST GRAVITY WALL BLOCK IS INSTALLED TO SUPPORT ROAD BED ON EACH SIDE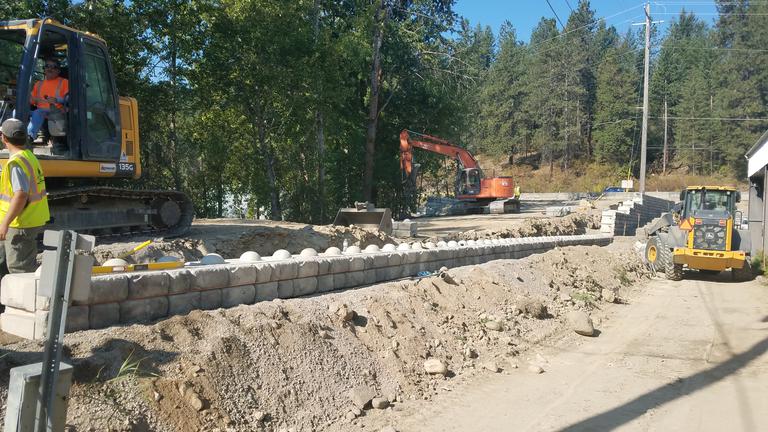 VIEW FROM JONES ROAD 9/05/2018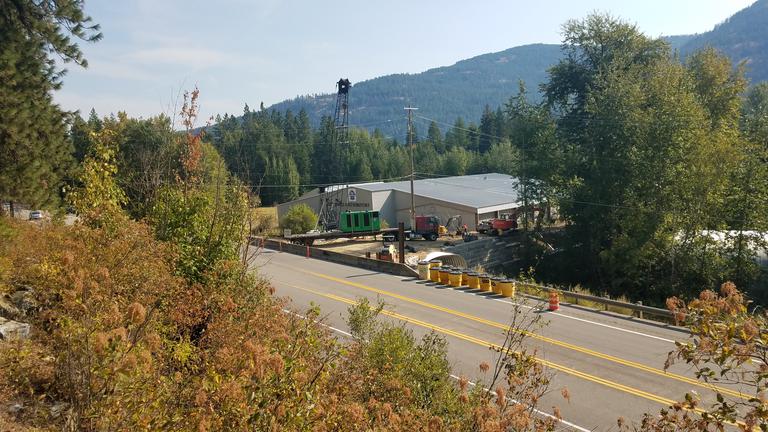 VIEW OF INTERSECTION FROM WEST SIDE OF HIGHWAY 95 8/29/2018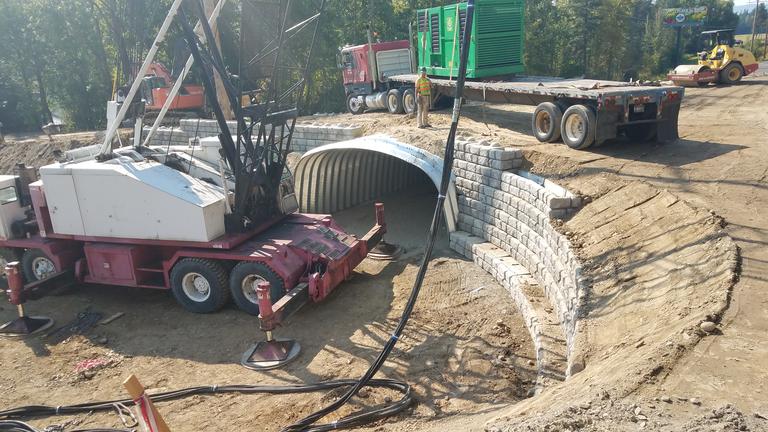 VIEW FROM NORTH SIDE 8/29/2018
UPDATE 9/05/2018 - SAGLE ROAD DITCHING AND BRUSHING - EXPECT 15 MIN DELAYS
BEGINNING 9/04/2018, ROAD CREWS WILL BE BRUSHING, DITCHING AND CLEANING THE RIGHT OF WAY ALONG SAGLE ROAD IN THE 2000 BLOCK NEAR GOLD MTN DR WORKING THEIR WAY EAST THROUGH EARLY OCTOBER. MONDAY - THURSDAY FROM 8 AM - 4 PM COMMUTERS CAN EXPECT 15 MINUTE DELAYS WITH PILOT CARS TAKING TRAFFIC THROUGH THE ACTIVE WORK AREA.
UPDATE 8/24/2018 BOTTLE BAY HIGHWAY 95 INTERSECTION PROJECT
Bike path tunnel assembled and back fill is underway. The project will add a designated turn lane and widen the intersection in addition to moving the bike path. It was slated to be completed October 1st, but is expected to be finished in mid to late September.
Views from North and South entrances of bike tunnel.
This project is funded by Local Highway Safety Improvement Program grant from LHTAC Local Hwy Technical Assistance Council.
The intersection was identified as highest priority as part of 2016 Bottle Bay Rd Safety Audit with 12 accidents and 1 fatality.
Update 8/14/2018 - Big Creek Bridge Project Progress
Big Creek Bridge summer long project in the 3700 block of Eastriver Rd is progressing nicely and scheduled to be finished by the end of August. The Kalispell Tribe, Idaho Fish and Game and USFS are funding the project to open another 10 miles of fish habitat that was previously impeded by the culvert under Eastriver Rd.
Update 8/06/2018 Bottle Bay Rd-Hwy 95 Intersection Project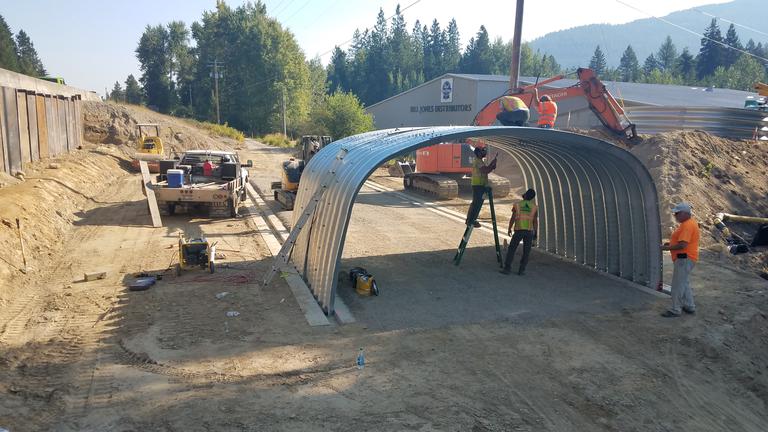 Contractor begins assembling bike path tunnel. The intersection project is slated to be completed October 1st.
Upcoming Road Projects - Late July through Mid August
Careywood Area - Continued work to include widening the road bed and grinding the asphalt surface on Bayview Rd
Cocolalla Area - Rebuild - gravel Dogwood Ln, Pinewood Ln and Maplewood Ln
Sagle Area- Chip sealing Dufort Rd from Highway 95 to Ferry Rd
Carr Creek Area- Hauling gravel on Carr Creek Rd
Priest River Area - Replace culverts on Peninsula Rd and prep Spring Haven Dr and Merrit Ln and apply BST (hard surface material)
Ponder Point / Kootenai Area - Prep and Chip seal Ponder Point area County roads and Jeffery Dr
7/10/2018 UPDATES - CHIP SEALING PROJECTS - PONDER POINT ROADS AND JEFFREY DR.
Due to upcoming chip sealing projects, please note sign below.
The roads need to be completely dry, so please refrain from early morning watering and no parking on roads in Ponder Point area and also on Jeffrey Dr between July 16th - July 19th and also July 23rd - July 26th.
7/03/2018 Road Projects Underway
Big Creek Bridge project in the 3700 block of Eastriver Rd is underway with a temporary 1 lane bridge to detour traffic during the summer long project. The Kalispell Tribe, Idaho Fish and Game and USFS are funding the project to open another 10 miles of fish habitat that was previously impeded by the culvert under Eastriver Rd.

Temporary detour bridge

Original large culvert to be removed and replaced with a permanent 2 lane bridge to help facilitate fish travel along Big Creek.
Two smaller culverts to the right will divert the creek during construction of the new bridge.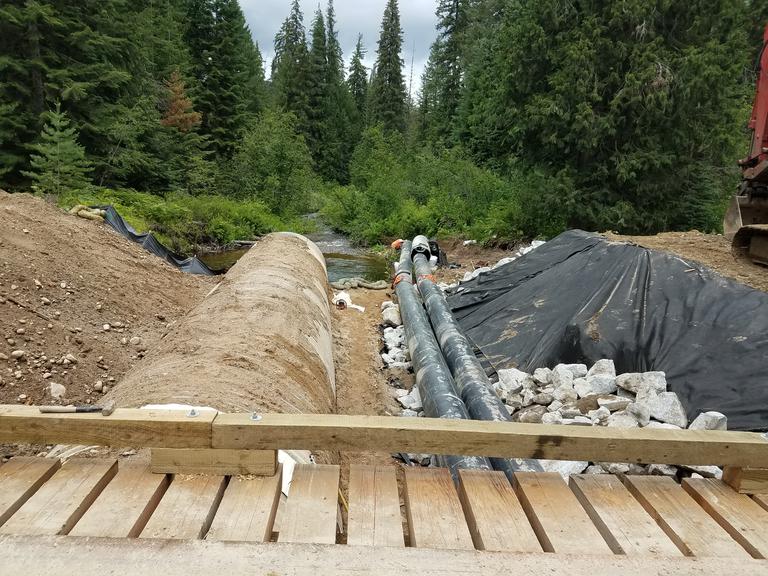 6/28/2018 - Road Projects Underway
W Spring Creek Rd - Currently, County road crews are working on W Spring Creek Rd - brushing, ditching, widening, culvert installation and possible rock hauling. Monday - Thursday through July 19th.
Bayview Rd - Currently, County road crews are working on Bayview Rd - brushing, ditching, widening, culvert installation and possible rock hauling. Monday - Thursday through July 19th. In early August crews will begin grinding the existing asphalt and spreading it to widen the roadway. Hauling of 9" of base rock, and 6" of crushed rock will follow during the following weeks with the contractor scheduled to pave Bayview Rd the end of September.
6/27/2018 UPDATE - BOTTLE BAY RD - TRAINS BLOCKING RAILROAD CROSSING IN EXCESS OF 20 MINUTES
BURLINGTON NORTHERN SANTA FE RAILROAD
The number to call if a train is blocking the Bottle Bay Rd railroad crossing #058828R in excess of 20 minutes is 800-832-5452 BNSF DISPATCH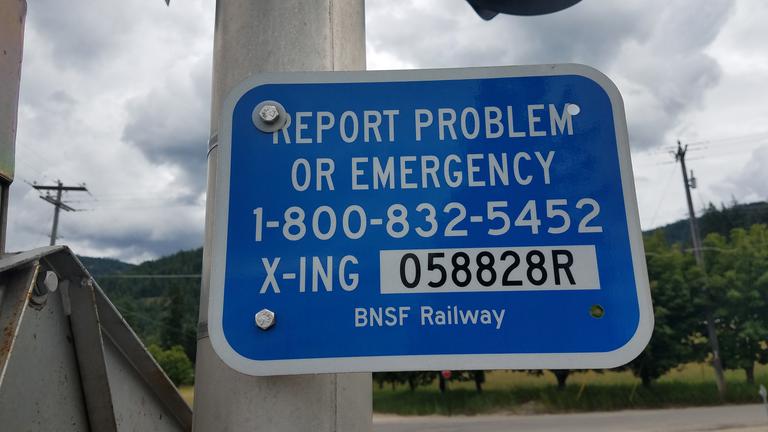 UPDATE 6/27/2018 - BOTTLE BAY INTERSECTION PROJECT UNDERWAY THROUGH OCTOBER 1ST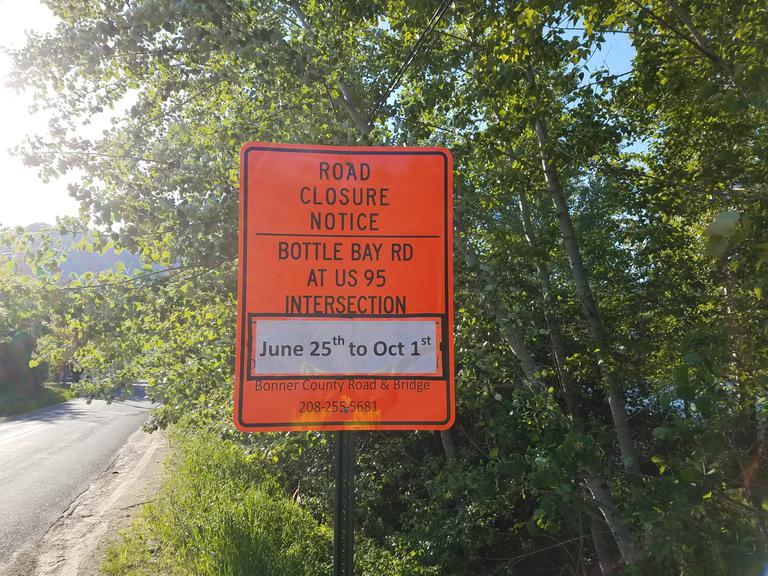 Bottle Bay Rd Intersection with Highway 95 will be closed for intersection reconstruction June 25 - October 1, 2018.
The safety grant project will create left and right turn lanes onto the highway and an underpass for the bike path.
The intersection will be closed for the duration of this project. The 3.1 mile long detour to Highway 95 will be via Lignite Road to Sagle Road.
See Map Below.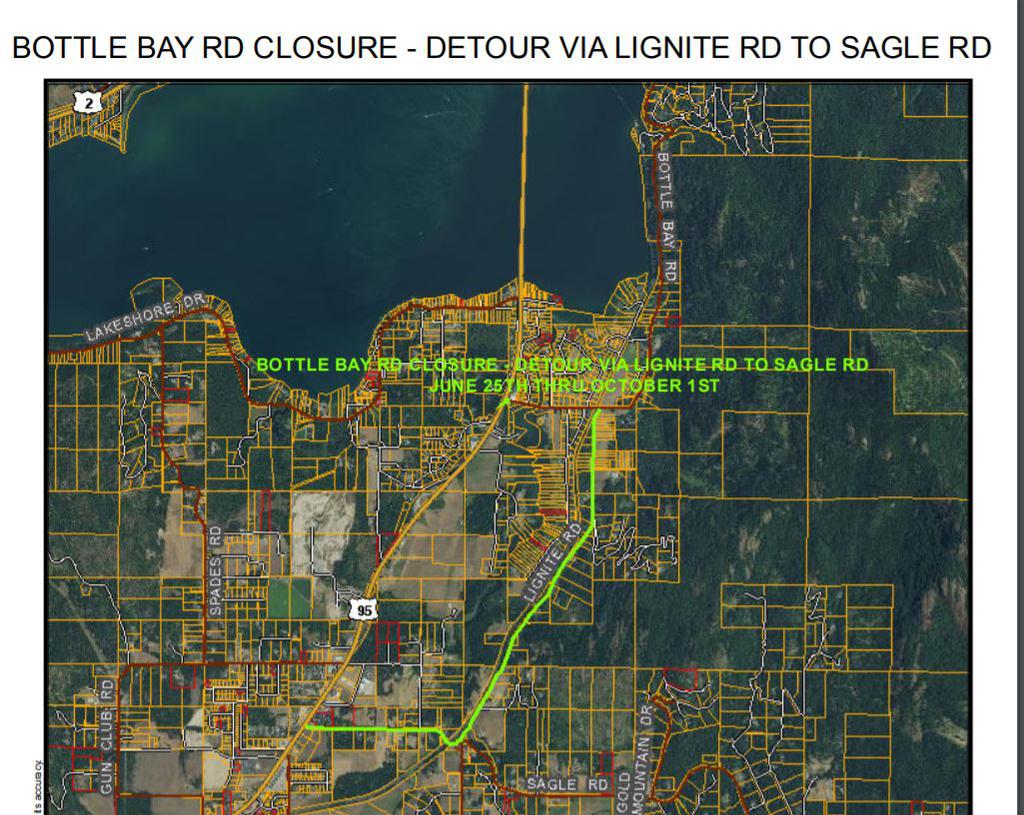 Update 7/11/2017 – Bottle Bay Rd
The contractor will continue paving Bottle Bay Road through the beginning of next week. Once the road surface is completed, they will be filling in the shoulders and driveway approaches in coming weeks.
5/11/2017 Update – Road Projects
Lakeshore Dr. culvert replacement May 15th
The BC Road Crew will be replacing a culvert at the 5000 blk of Lakeshore Dr on Monday, May 15th from 8 to 3, please expect delays up to 45 minutes.
Bottle Bay resurfacing project begins May 16th
Road construction will start on Bottle Bay Rd on Tuesday, May 16th for approximately 4 weeks. Please expect delays.
Cavanaugh Bay Road – Soldier Creek Culvert Replacement Project
Update 12/09/2016
Cavanaugh Bay Road opened to one lane traffic 12/08/2016. Crews continue to improve the road, so please drive with extreme caution.

Crews will be working as weather permits to restore both lanes. This section of road will be paved in the spring.

Cavanaugh Bay Road opened to one lane traffic 12/08/2016

12/09/2016 Culvert installation is complete and road building continues
12/05/2016 Fill, fabric and rock is being hauled in.
Update 11/29/2016
Crews will be building retaining walls, pouring concrete and compacting fill to secure the culvert in place before any road material will be added to rebuild the road. We are hoping to have Cavanaugh Bay Road open by December 5th. There will still be ongoing site work to ready the project for winter. Paving is planned in the spring of 2017.
Update 11/30/2016

11/30/2016 Crews work to evenly complete back fill and retaining wall securing culvert.

Soldier Creek flows freely through the new culvert.

Design drawing showing block wall with geogrid strips and compacted back fill depth before regular fill goes in.

Backside of retaining wall with geogrid strips.

11/30/2016 View of culvert from Cavanaugh Bay Rd
Due to record rainfall this month, the contractor has pushed the opening date for the Soldier Creek Crossing on Cavanaugh Bay Road to December 5th. See link to map of detour route below.

Soldier Creek flows through new culvert

Sheet pile dam is removed to allow stream to flow

Retaining wall block is secured with 18′ strips of geogrid and compacted in 8′ depths and poured concrete to secure culvert in place.

Retaining wall block secures culvert in place, then fill will be added

Block with geogrid and compacted material between each strip

11/22/2016 More block to be set on sides to secure culvert before back filling begins

11/22/2016 Natural fill is placed inside the culvert for fish habitat

Culvert is built in place

​​​​​​Concrete is poured to secure culvert

Natural stream bed material will top the pit run and boulders to be placed in the culvert

Culvert as is sits in the base at Soldier Creek.

Crews assemble the 25′ diameter culvert at Soldier Creek.

A 3rd diversion culvert- 5′ in diameter was installed to divert the heavy stream flow caused by record rainfall.

11/15/2016 Assembly of the 25′ diameter culvert begins.

Concrete and blocks form the base below the 25′ diameter culvert.

11/14/2016 Crews finally have a dry and stable rock base in the bottom of the excavation.
Update 11/09/2016

Workers continue preparation of the base for the new 25′ diameter culvert.

11/07/2016 Stream diversion measures and pumping finally work along with less rainfall to allow work on the Soldier Creek culvert replacement project to progress.
Update 11/02/2016
Update 10/31/2016
Unfortunately, heavy rain continues to hamper progress on the Soldier Creek culvert replacement project on Cavanaugh Bay Rd. According to NOAA weather statistics, October 2016 rainfall has already broken the 111 year record.

Whirlpool above intake culverts due to heavy rainfall

Heavy rainfall floods walking bridge across Soldier Creek

Water continues to flow around the sheet pile coffer dam on October 28th

A worker crosses the flooded foot bridge on October 28th

A pump has been added to divert more water from the job site

October 31st whirlpool above intake of bypass culverts

Creek level continues to rise with rainfall for the month of October 2016 breaking the 111 year record
UPDATE 10/25/2016
Due to record rainfall this month, the contractor has pushed the finish date for the Soldier Creek Crossing on Cavanaugh Bay Road to November 17th. See link to map of detour route below.

Original culvert

Soldier Creek 10/06/2016

Excavation down to top of old wooden culvert

Excavated material staged along Cavanaugh Bay Rd

Unearthing the original failing wooden culvert 10/13/2016

Building a temporary dam to divert stream during culvert replacement 10/13/2016
Construction of the culvert replacement on Cavanaugh Bay Rd at Soldier Creek has been delayed due to the weather and site conditions. The project was scheduled for October, which is typically a low water month with an average rainfall of 1.5". Since construction began on October 10 th , we have had over 6" of rain, including one storm which qualified as a 3-yr storm event.

October 14th, unseasonably heavy rain floods temporary dam

Crews try to increase the temporary dam height efficiency
Because of the rain, the creek has risen from its typical 8" October depth to approximately 4ft deep. This has necessitated the installation of a second bypass pipe to handle the flows, as well as building the temporary coffer dam higher with ecoblocks and super sand bags. Even with these extra facilities, on two occasions the water has overtopped and undermined the coffer dam, sending water through the existing wooden structure once again. In one instance, it blew out a side of the cofferdam. It has become clear that the temporary ecoblock cofferdam is insufficient to block the flow of this quantity of water. Therefore, it was decided to install a sheet pile cofferdam which is taller and deeper and cannot be topped, undermined, or circumvented.

Heavy rain slows progress

Diversion culverts are almost at capacity 10/17/2016

Water level and flow increased by 10/21/2016

Stream diversion during project 10/21/2016

Sheet piles – interlocking 30′ sections to be driven 10′ into stream bed creating a coffer dam

Original structure exposed 10/24/2016

Downstream diversion 10/24/2016
The soils in the excavation limits are a silty sand for the first 15ft, and then transition to a blue clay at approximately creek level. The saturation of the soils in the work site has turned everything into a deep mud pit, with men and equipment unable move, let alone work effectively. To continue work, it was decided to import 6" minus rock and place it on top of geotextile fabric and geogrid to create a ramp and pads on which equipment can safely and effectively operate. It was also decided to continue the sheet pile wall the entire length of the new culvert so that the final excavation can be made without the sides slumping in – an event which would pose an extreme safety risk to workers 10ft below the water level.

Heavy rains cause new strategy for diverting water – building a coffer dam wall with 30′ sheet piles

Sheet pile driver
DETOUR ROUTE AROUND SOLDIER CREEK PROJECT
Please be advised of the upcoming road closure – Cavanaugh Bay Rd at Soldier Creek crossing for culvert replacement. Signs are posted at both ends of the closure. A primitive single lane 5 mile long detour road will be open during the road closure. Please note that this road will not be well suited to recreational vehicles and boat trailers, etc. Work is planned to be completed between October 3rd and November 17th.
August 1, 2016
Chip sealing projects are underway. Please drive with care and respect workers. We have a very limited (weather permitting) window to get these projects completed.
Crews are working in District 3 (Sandpoint area). Thank you for your patience.
Code of the West 2015 (A publication to help you better understand how things work in Bonner County.)
Bonner County is a wonderful place to live, work, and raise a family. We hope this information wil help enhance the quality of your life here. Respect your neighbors livelihood and property and be aware that your actions may have adverse impacts on your neighbors, human and otherwise. However, the information presented here is intended as a guideline and an introduction into some of the realities of rural living. You may discover other issues that may not have been covered by this document. We encourage you to research and examine all aspects of country living prior to surprises.
Bonner County elected officials, administration and staff pride themselves on their accessibility. By participating in the publication of the Code of the West, Bonner County is in no way divesting itself of its responsibility to its constituents. We offer this publication in the sincere hope that it will help you better understand how things work in Bonner County.
Images of the Old West draw people to an area once filled with miners, farmers, ranchers, loggers and other agricultural workers. Often newcomers are much more romantic about the West than the old timers and have false hopes about bringing their urban lifestyles into the great outdoors. They come with false expectations. They believe they can fax and email from the mountaintop. In the New West, the information superhighway is often a dirt road.
(for more information, click the link above)