Current News
4/19/2021
A note from the Director regarding Spring road conditions

3/15/2021
Changes to US-95 south of Sandpoint planned for 2021 and 2022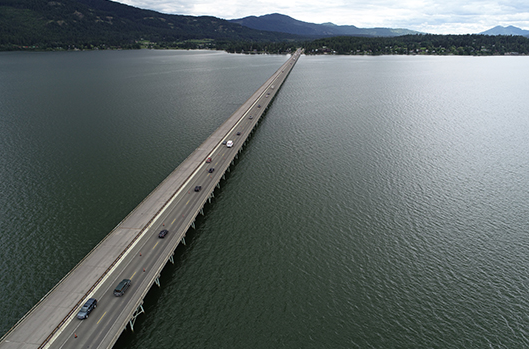 The Idaho Transportation Department is in the process of designing improvements to US-95 between Sagle and Sandpoint, with the first phase planned for construction this summer.
Click Here for the story
1/27/2021
Public Announcement - Heath Lake Road closure

1/13/2021
Thank you for your patience Bonner County Residents! We are out identifying issues and fixing them as fast as we can.
Here's a little of what we are dealing with.

1/8/2021 A message from Director Steve Klatt

12/28/2020 A Friendly Reminder
Please remember to give yourself and our plow/sander rigs a little extra space during this winter driving season.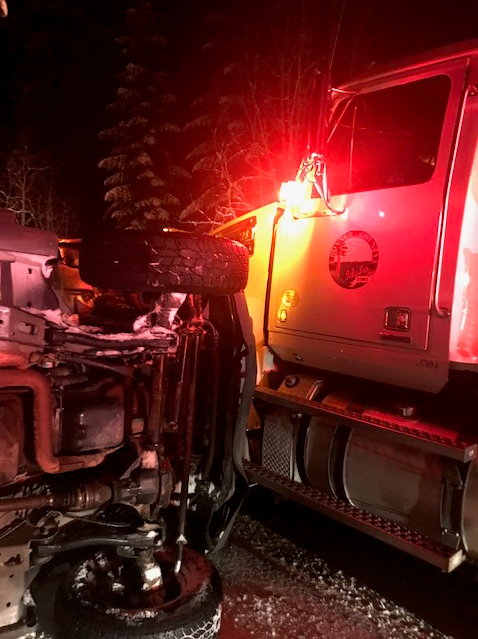 11/09/2020 Message from Steve Klatt, Director, Road and Bridge Department
Hello Bonner County Drivers – It's beginning to look like we may need to be ready for winter driving a bit earlier than usual this year and I hope most of you have gotten your winter tires on your rigs. Our observation in the Road Department is that there appear to be plenty of new residents in the county and that also means there will be plenty of people unfamiliar with Bonner County plowing protocols. Please remember that County roads are not maintained 24 hours a day, seven days a week and make sure you have good winter tires on your rig. Having just seen the local winter forecast for 12 feet of accumulated snowfall this coming winter, please be prepared for a steady routine of slippery roads.
Winter road maintenance is expensive, hazardous for operators and time consuming. Bonner County spent nearly $2,000,000 last winter providing safer roads. Snow plowing commences after several inches have accumulated on roadways. Bonner County Road & Bridge operates three districts to maintain 700 miles of road, but all adhere to these priorities for our winter maintenance:
1st Priority School bus routes, arterials and major collectors
2nd Priority All other county maintained roads after 1st Priority roadways
3rd Priority Sanding generally begins after plowing a road is completed. Sand is applied to steeper roadway grades, at intersections, on bridges, and other areas determined to be hazardous. It is not standard policy to sand straight stretches of roadway because of snow floor. Road salt is not used.
Mailboxes in county road rights-of-way suffer greatly from snow plowing activity and are the responsibility of the owner. Most people underestimate the weight of snow being pushed from the road, so if you can wiggle your mailbox, there is a fair probability that plowed snow will take it down. County operators do not intentionally damage mailboxes, but maintain speed to throw snow from the road. The growing number of garbage cans placed for pickup within the right of way must be kept out of the plowed travel surface because they will end up in the ditch and create an unsightly mess that individuals are responsible for.
Residents who remove snow from their driveways are reminded that Idaho Code 18-3906 prohibits placing snow or ice on any public road in a manner that impedes traffic or makes it unsafe and 18-3907 prohibits the placing of snow in any manner that affects the water flow of a ditch line. If your snow plowing affects the County's plowing or anyone driving the road, you are breaking the law.
YOU CAN HELP
There are several ways the public can help make the County's job more cost effective and safe:
Vehicles must not be parked on roadways during snow events. Vehicles will be buried in the snow berm and/or towed if interfering with the plow route. Once bermed in, it is the resident's responsibility to shovel their vehicle out. Please remember – our roads are not city streets!

Landscape features such as rocks, fences or planters should be removed from the rights-of-way for the winter. They may be destroyed by snow plowing, but they also can do substantial damage to snow plows. Owners are responsible for County equipment unnecessarily damaged.

Do not push snow over ends of culverts or drainage structures. Rapid warming cycles in winter could result in overloaded ditches being unable to drain. Local flooding could occur.

Mailboxes are damaged during snow removal operations. Replacement of damaged mailboxes is the responsibility of the property owner/resident per the Bonner County Road Standards Manual, Section 8.

Snow removal operations require the use of large and heavy equipment during periods of darkness usually accompanied by limited visibility caused by falling snow. Bonner County operators are trained and safety is stressed at all times. Drivers of automobiles should follow at a safe distance where the operator can see you in his mirrors.

Children love to watch the large equipment, noise, lights and activity of snow removal operations. Please keep children a safe distance away. The concentration required for snow removal, means the operators may not always be able to see people close by and accidents could result.

Please encourage children NOT to build tunnels, forts or play in snow berms.
Information on the Road & Bridge website, https://www.bonnercountyid.gov/departments/roadbridge may help residents be proactive in securing their mailboxes and safeguarding articles placed in the County-Right-of-Way. We want everyone to have a safe and secure winter.
For further information, please call the Bonner County Road & Bridge Department at 208 255-5681, ext. 1; Monday through Friday, 7am to 4pm.
Steve Klatt, Director
N Kootenai Rd Paving Project
Paving of N Kootenai Rd from Firestone Ln to Selle Rd will begin Monday, September 28th and should last approximately 5 days. Please expect delays.
Gypsy Bay Rd Bridge Closure
The bridge at the 2040 block of Gypsy Bay Rd will be closed starting Monday, September 28th through Oct 10th for a rebuild. Please use Moonshadow Rd for a detour.
UPDATE 9/02/2020 - MCABEE FALLS BRIDGE WORK UNDERWAY - CREWS ARE REPAIRING THE DELAMINATED CONCRETE BRIDGE DECK WITH GROUT IN PREPARATION OF APPLYING AN EPOXY SEAL OVER THE ENTIRE BRIDGE DECK.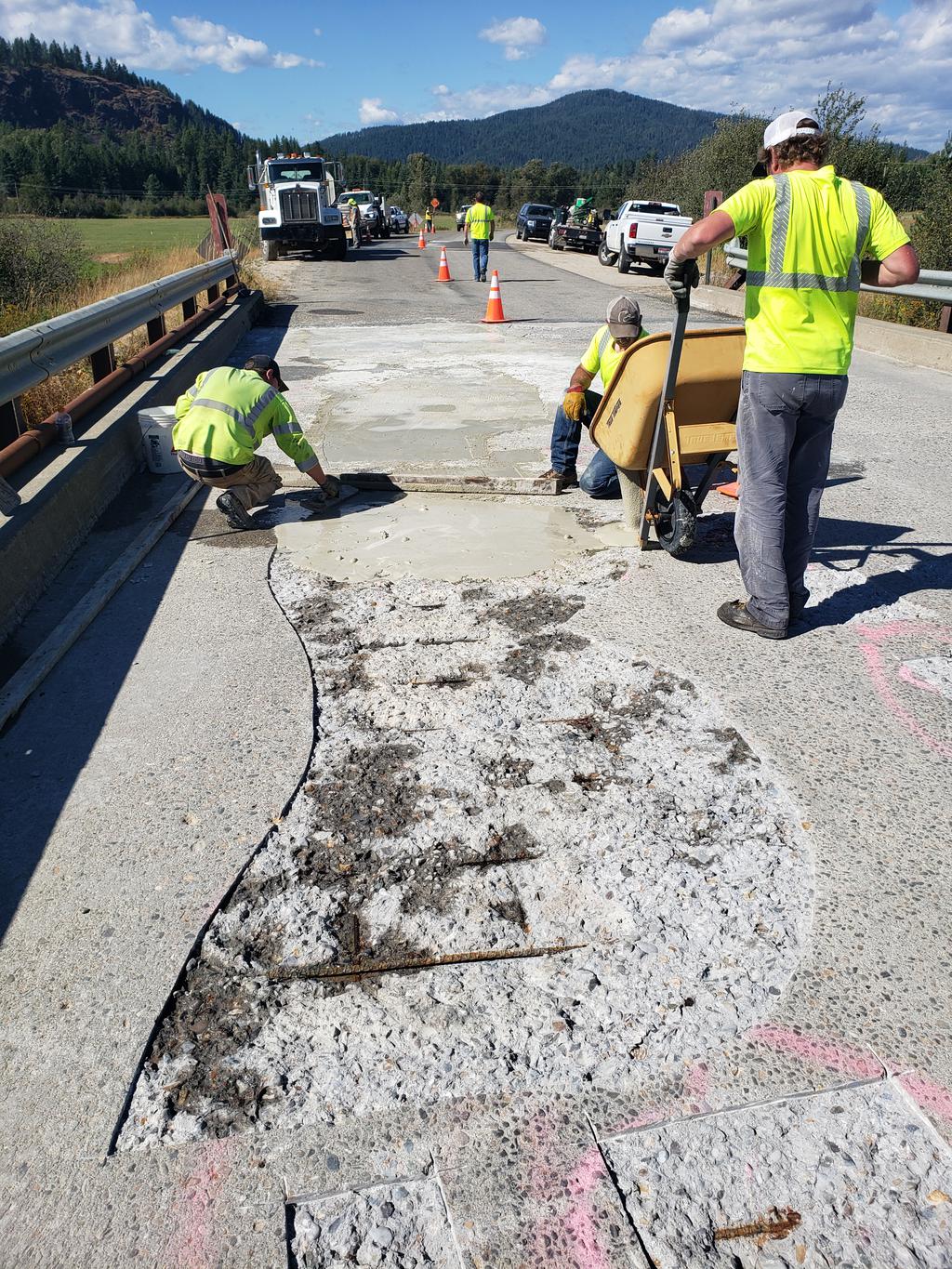 UPDATE 8/17/2020 - BNSF will be closing the railroad crossing at the south end of Cocolalla Loop for repairs Thursday morning, Aug 20th at 7:30 am, then reopening on Friday, Aug 21st at 5 pm.
UPDATE 8/14/2020 - CHIP SEALING CREW AT WORK
CLICK THE LINK BELOW TO VIEW
https://drive.google.com/file/d/1ERJ1SCJfE6eDRqvYLSqx7Mr3uetIXhXW/view
UPDATE 8/12/2020 - RAPID LIGHTNING BRIDGE #5 REPLACEMENT PROJECT DESIGN OPTIONS
THIS BRIDGE REPLACEMENT PROJECT IN THE 5900 BLOCK OF RAPID LIGHTNING ROAD IS PLANNED TO BE COMPLETED IN THE NEXT 6 YEARS, BUT THE CONSTRUCTION DESIGN OPTION NEEDS TO BE SELECTED WITHIN THE NEXT MONTH. THE PROJECT IS PLANNED TO BE COMPLETED IN 2026 WHEN IDAHO DEPARTMENT OF TRANSPORTATION HAS IT SLOTTED FOR FUNDING, UNLESS FUNDING COMES AVAILABLE SOONER. THE WORK WILL BE CONTRACTED OUT AND THE CONSTRUCTION TIME FRAME IS MAY THROUGH OCTOBER IN YEAR OF CONSTRUCTION (TO BE DETERMINED). PUBLIC COMMENT MAY BE MADE TO THE ROAD AND BRIDGE OFFICE IN WRITING OR VIA EMAIL TO MATT.MULDER@BONNERCOUNTYID.GOV OR STEVE.KLATT@BONNERCOUNTYID.GOV.
SEE IMAGE LINKS BELOW FOR EACH OF THE 3 OPTIONS.
OPTION 1 - BONNER COUNTY ROAD DEPARTMENT *PREFERRED OPTION DUE TO COST - CLOSE ONE LANE TO BUILD HALF OF THE NEW BRIDGE THEN USE NEW SECTION WHILE THE REMAINING BRIDGE LANE IS BUILT. INCLUDES A TEMPORARY TRAFFIC SIGNAL AT EACH END OF CONSTRUCTION ZONE FOR 1 LANE TRAFFIC. WITH APPROXIMATELY A 3 MINUTE WAIT FOR ALTERNATE LANE OF TRAFFIC TO PROCEED THROUGH THE CONSTRUCTION ZONE.
OPTION 2 - NORTH ROUTE BUILD, KEEPING EXISTING BRIDGE AND ROAD OPEN DURING CONSTRUCTION OF NEW ROAD AND BRIDGE. - RESULTS IN 25% INCREASE IN COST OVER OPTION 1 DUE TO STREAM BED RELOCATION, BUILDING OF NEW ROAD BED AND INCREASED RIGHT OF WAY PURCHASE.
OPTION 3 - SOUTH ROUTE BUILD, KEEPING EXISTING BRIDGE AND ROAD OPEN DURING CONSTRUCTION OF NEW ROAD AND BRIDGE. - RESULTS IN 20% INCREASE IN COST OVER OPTION 1 DUE TO BUILDING OF NEW ROAD BED AND INCREASED RIGHT OF WAY PURCHASE.
UPDATE 8/11/2020 - FOR EMERGENCY ISSUES FOR RAILROAD CROSSINGS - CALL THE RAILROAD COMPANY PHONE NUMBER ON THE BLUE SIGN POSTED TO THE RIGHT SIDE OF THE CROSSING. IT WILL HAVE THE CROSSING NUMBER POSTED ON THE SIGN. SEE EXAMPLE BELOW. THESE SIGNS ARE CROSSING SPECIFIC FOR PHONE NUMBER FOR EACH SPECIFIC RAILROAD.
UPDATE 8/11/2020 BLOCKED RAILROAD CROSSINGS - NON EMERGENCY - WHERE TO REPORT THE DATA
Please click on the link below to report blocked railroad crossings (over 15 minutes).
It's a simple form to complete. Identify the crossing number on the sign or click the crossing location on the map, click General Public Report, 1.) answer if the train was stationary, moving or no train, but lights or crossing gate was activated, 2.) the date, 3.) duration crossing was blocked, and 4.) any immediate impacts. Please share this with as many people as necessary so we can accurately capture blocked crossing data. The Federal Railroad Administration will use this reporting function to track crossings that are blocked regularly and this will give them more data to pursue enforcement against railroads that are repeat offenders.
Note: The information needs to be reported within 7 days of the blocked crossing incident.
https://www.fra.dot.gov/blockedcrossings/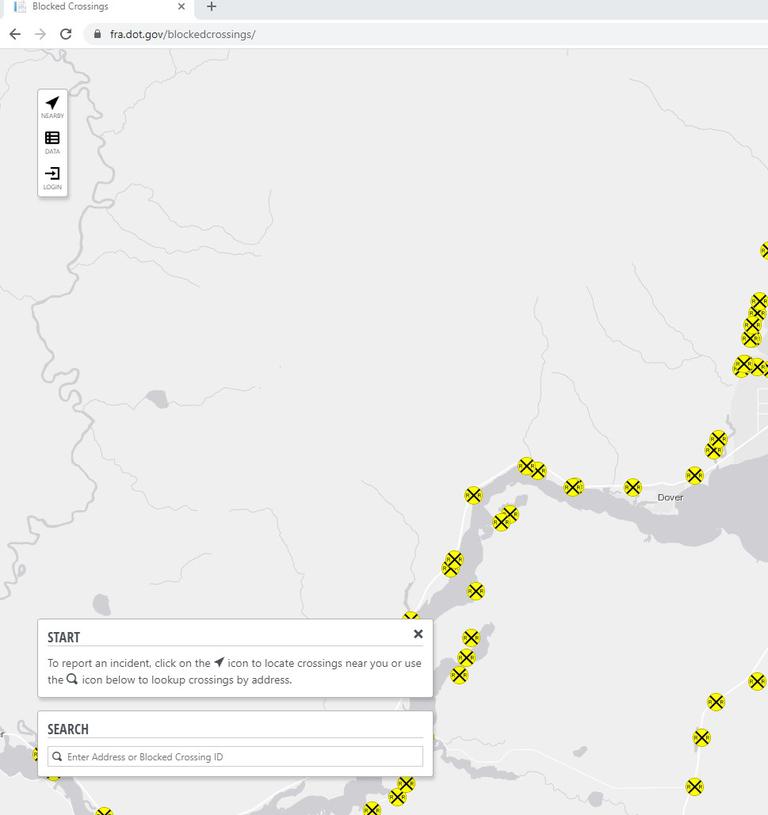 UPDATE 7/23/2020- BEGINNING AT 8:30 AM, MONDAY, JULY 27TH KOOTENAI BAY ROAD WILL BE LIMITED TO ONE LANE TRAFFIC FOR INSTALLATION OF MEDIAN / BOLLARDS TO DIRECT TRAFFIC FOR THE QUIET ZONE "NO TRAIN WHISTLE" FOR THE PONDER POINT - WHISKEY JACK ACCESS. FLAGGERS WILL BE ON SITE. EXPECT DELAYS.
Contractor to install a median and bollards in the at-grade railroad crossing, one of the final steps in attaining the Kootenai Bay Road "Quiet Zone" designation from the Federal Railroad Administration. This will be similar to the one in East Hope.
Update 7/23/2020 - Our crews are busy rebuilding and resurfacing roads throughout the County this summer. Chipseal application continues in District 1 in the Blanchard area next week. Wooded Acres Drive is slated for BST application in mid to late August. Chip sealing equipment is shared by the three road districts and goes to District 2 following repairs. District 2 roads to be done include E and W Cedar Ln, Eastshore Rd, Freeman Lake Rd, Hoodoo Loop, Hoop Loop and LeClerc Rd. District 3 will follow with River Rd, Lightning Creek Rd, East Spring Creek Rd, River Lake and N River Lake Dr.
7/01/2020 Message from Steve Klatt, Director, Road and Bridge Department
Reflections – Summer 2020
The past three months have been a most interesting time in the life of the Bonner County Road Department. Mid-March found us shuffling half crews on and off for the next six weeks, during which our summer construction schedule began to slip immediately. By the time we got our full crews working together again, Mother Nature decided to play pranks upon us with frequent and persistent rain events. Now, at the end of June, we are finishing our mag chloride treatments of early June.
The interruptions and rain delays have also upended our construction schedules for this year. We have been able to get a substantial amount of work done on North Kootenai Road, brushing work done up on Eastshore Road at Priest Lake, and several smaller roads graveled near Cocolalla Lake that have been waiting a few years. A project impacted by this year's interruptions has been our BST project for Lakeshore Drive being split into road improvements later this year and surface treatment being completed next summer.
Chip sealing projects will get underway right after the Fourth in the Sagle area, move out to the Clark Fork area and then up to Priest Lake. Depending on what little tricks Mother Nature is hiding up her sleeves, we should be done with chips around the middle of August. We will have a crew working on brushing and ditches up Baldy Mountain Road, plus a contractor clearing right-of-way on Woodland Drive. We are working on setting up a guardrail project for an area on Denton Road and the striping of roads will get under contract before too much longer.
Bonner County got a unique opportunity to participate in planning efforts funded by the Federal Highway Administration to create a Local Roads Safety Plan. The numbers of serious and fatal crashes on local roads is disconcerting at best and I have wanted to study our crash data to determine if similarities in crashes exist that might be treated systemically for improved driver safety. This effort has been made a bit cumbersome by COVID 19 restrictions on travel this year, but getting traffic safety planners to help us analyze our road system is a good starting point. We have been awarded a grant for right-of-way clearing of hazard trees in a couple of years and that will help reduce the severity of future crashes.
We are working on a project to replace a small bridge that is failing out on the Gypsy Bay Road after summer traffic slows down and have a bridge deck restoration job scheduled up on Peninsula Road once we begin to have some warm days. There are three more intersection lights we will have installed on Highway 95 south of Sandpoint later this summer and will continue to expand our lighted intersection program each year. Hard to believe, but we are beginning to gather up our stockpiles of anti-skid material for winter already in a program that costs nearly $2 million each season. It has been good to add three new trucks to our aging fleet.
Let's all drive safely and have patience with our crews working to improve your county roads.
Steve Klatt, Director
UPDATE 6/15/2020 - N. KOOTENAI ROAD WILL BE CLOSED AT THE FOLLOWING LOCATIONS FOR CROSS CULVERT REPLACEMENT
MONDAY, JUNE 15TH 7AM TO 4PM - 1200 BLK
TUESDAY-WEDNESDAY JUNE 16TH 7AM THRU JUNE 17TH APPROX 3PM AT 2800 BLK
THURSDAY, JUNE 18TH7AM TO 4PM - 3200 BLK
UPDATE 6/09/2020 - BNSF WILL BE CLOSING THE SAGLE ROAD RAILROAD CROSSING FOR TRACK MAINTENANCE ON MONDAY, JUNE 15TH FROM 8:30 AM - 5 PM. PLEASE USE ALTERNATE ROUTES.
UPDATE 6/02/2020- BNSF WILL BE CLOSING THE ALGOMA SPUR RAILROAD CROSSING FRIDAY, JUNE 5TH FROM 8:30 AM - 4 PM FOR TRACK MAINTENANCE