Current News
6/6/23
DUFORT ROAD - CULVERT FAILURE
UPDATE:
The culvert completely failed today and an opening had to be excavated to prevent flooding. We are still exploring our options for repair and investigating the most timely and cost effective option between a bridge or another culvert. Either option will take longer than a month to complete. As soon as we have a plan and a timeline we will provide an update.
On Sunday, June 4th it was discovered that the culvert south of Lakeshore Drive in the 5700 block of Dufort Road was failing. There was no warning for this failure and we have reports of residents in the area as late as Saturday evening that say everything looked fine. We are meeting with all resources available to formulate a plan for the repairs. The rising lake is complicating this plan immensely. As soon as we have figured out the best way to proceed we will post an update with a better timeline for the road to re-open.
We thank you for your patience.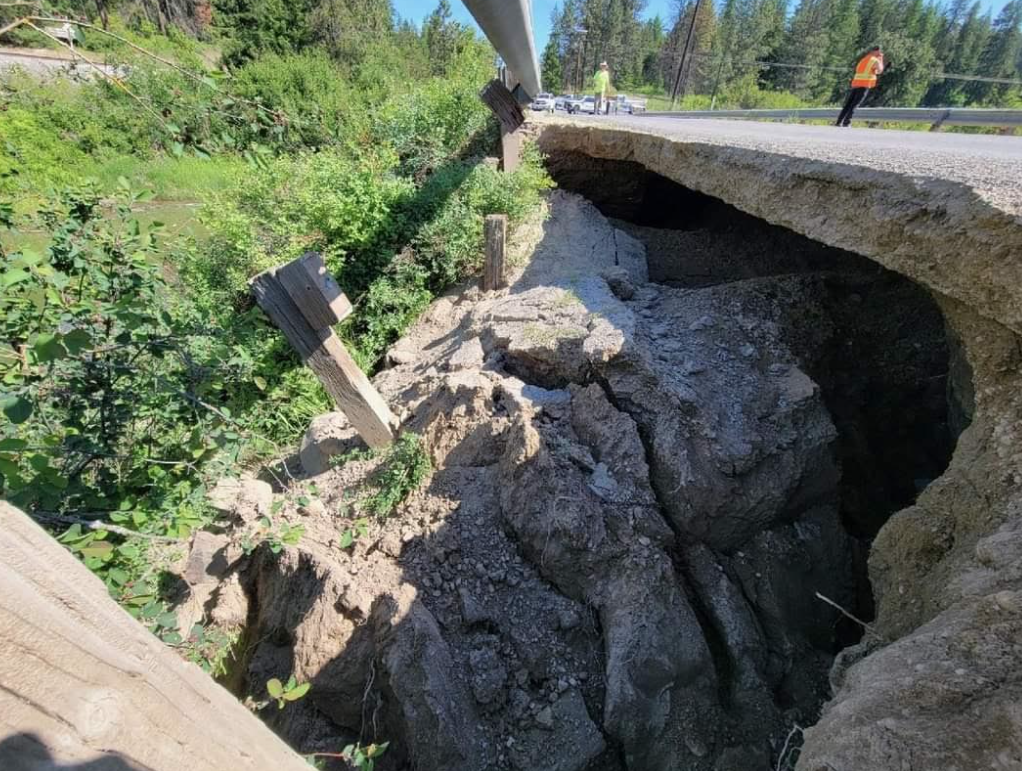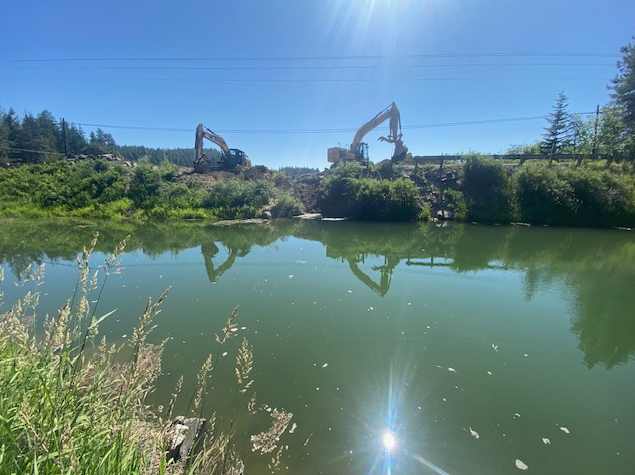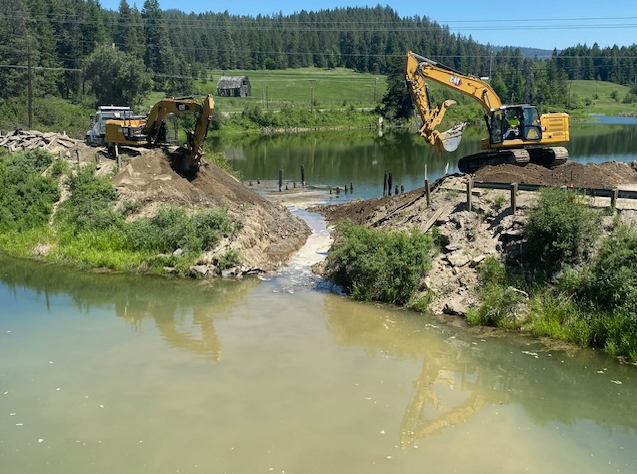 3/7/23
Congratulations to these Bonner County Road & Bridge Operators for being recognized for completing the appropriate classes to obtain the status of Road Scholar and/or Road Master! Their hard work and dedication are essential to the safety and success of Bonner County and we are all so grateful to have them as part of our Road and Bridge team!
Jonas Topp (Road Scholar & Road Master), Caiden Oliver (Road Scholar & Road Master), Bill Libbers (Road Scholar & Road Master), Sean Smiley (Road Scholar), Aaron Seck (Road Scholar & Road Master), Larry Alley (Road Scholar), Chris Williams (Road Scholar & Road Master) and Phillip Powell (Road Scholar & Road Master)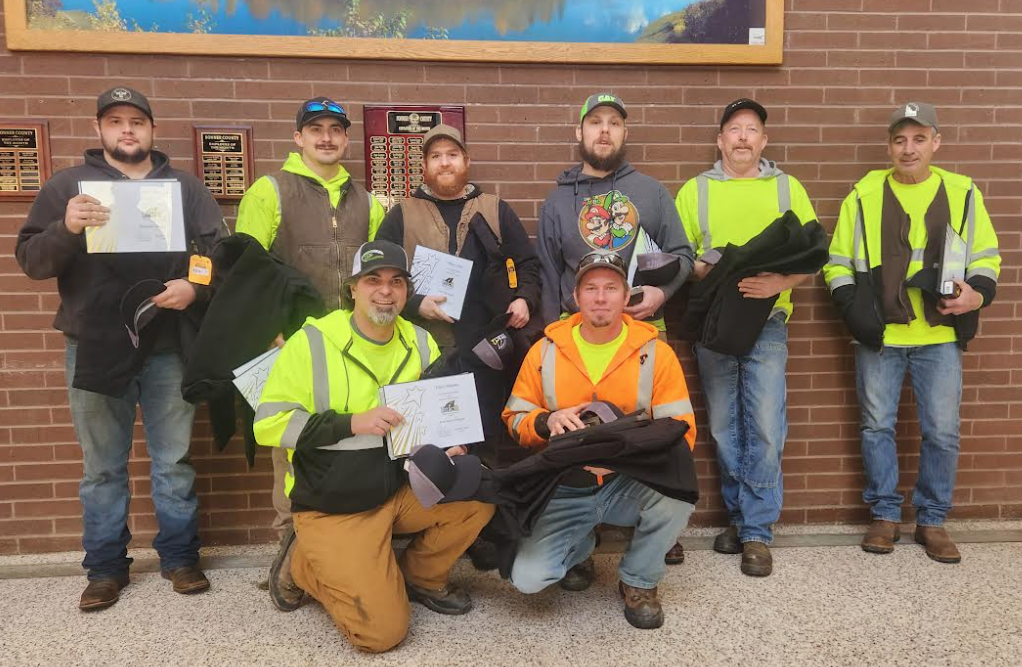 12/20/22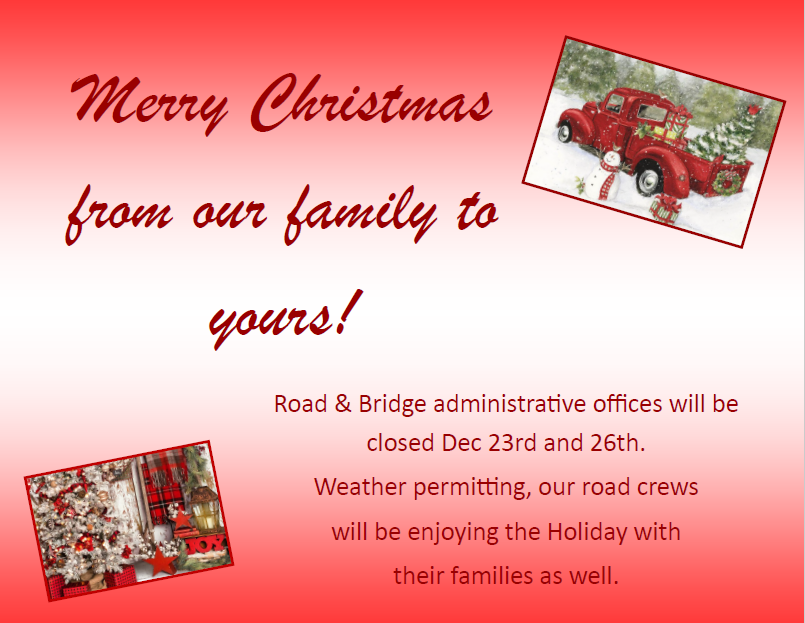 12/20/22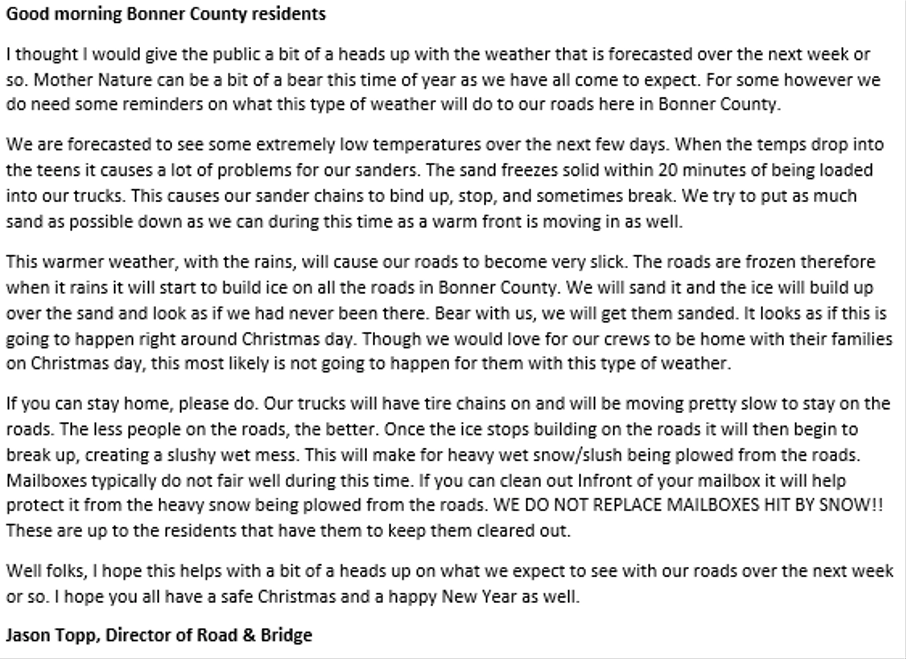 11/29/22
Please see below for a letter from our Director, Jason Topp regarding Winter Maintenance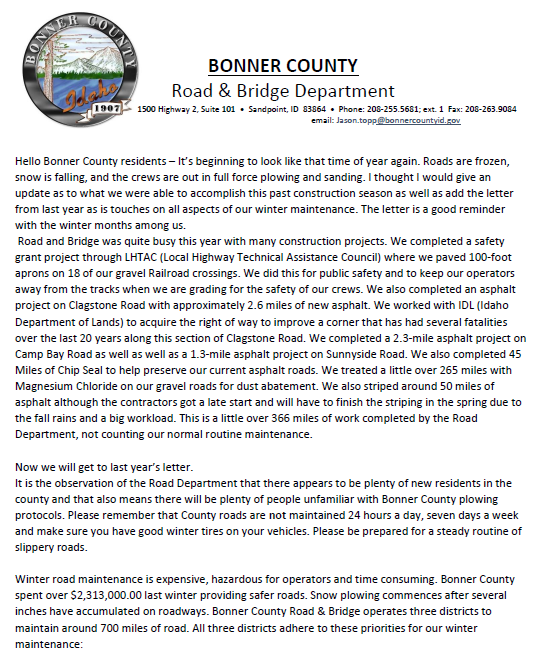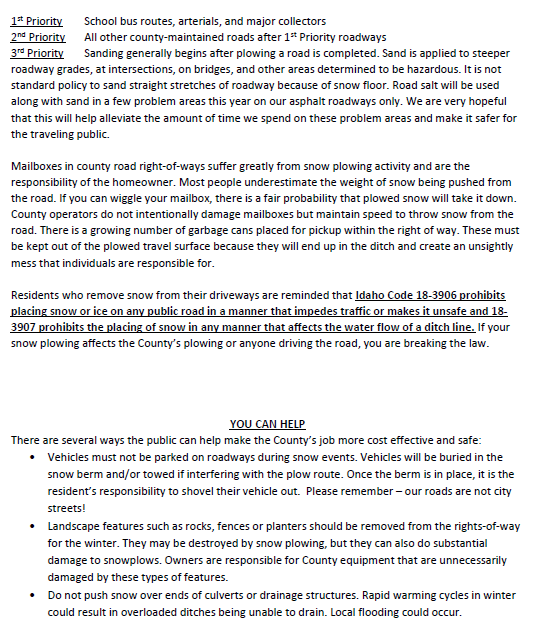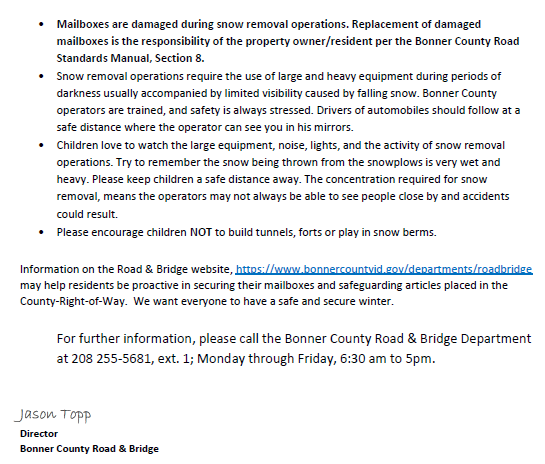 11/21/22

10/12/22
BNSF will be closing the Algoma Spur railroad crossing on Monday, October 17th from 7 am to 6 pm for paving. Detour signs will be posted 3 days in advance.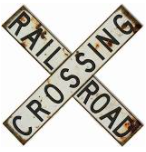 9/28/22
A portion of Sunnyside Road is being paved this week. Please expect delays 7am-7pm through Friday, 9/30/22.
8/24/22
The 4200 block of Sunnyside Rd, just west of Osprey Roost, will be closed on Monday, Aug 29th from 7 am to 4 pm for road work. Please use alternate routes.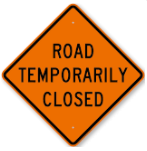 8/22/22
Sunnyside Road will be closed at the 4100 block, just west of Osprey Roost, on Wednesday, August 24th from 7am to 4pm for culvert replacement. Please use alternative routes.

8/18/22
BNSF will be closing the Algoma Spur railroad tracks for repairs on Monday, August 29th from 7 am to 6 pm.
8/11/22
Two Temporary Road Closures
The Kelso Clagstone Cutoff road in Spirit Lake will be closed on Saturday, August 13th from 6:30am to 5pm for road work. Detour routes will be posted.
Sunnyside Road will be closed at the 4200 block, just east of Osprey Roost, on Wednesday August 17th from 7am to Noon for tree removal. Please use alternative routes.

8/1/22
The Sandpoint Urban Area Transportation Plan is being developed by a multi-jurisdictional Planning Group, (MJPG) including the following local stakeholders: ldaho Transportation Department (ITD}, City of Dover, City of Ponderay, City of Kootenai, City of Sandpoint, the lndependent Highway District, and Bonner County.
Together, the MJPG are developing a unified transpor­tation master plan through interactive stakeholder workshops and public engagement strategies. The plan will provide a transportation vision focused on the cities and lands adjacent to Sandpoint to ensure adequate resources and activity is directed to the transportation network, activity centers, and public domain within the urban area boundary (UAB).
We would greatly appreciate your input! You can scan the QR codes below or visit the links directly.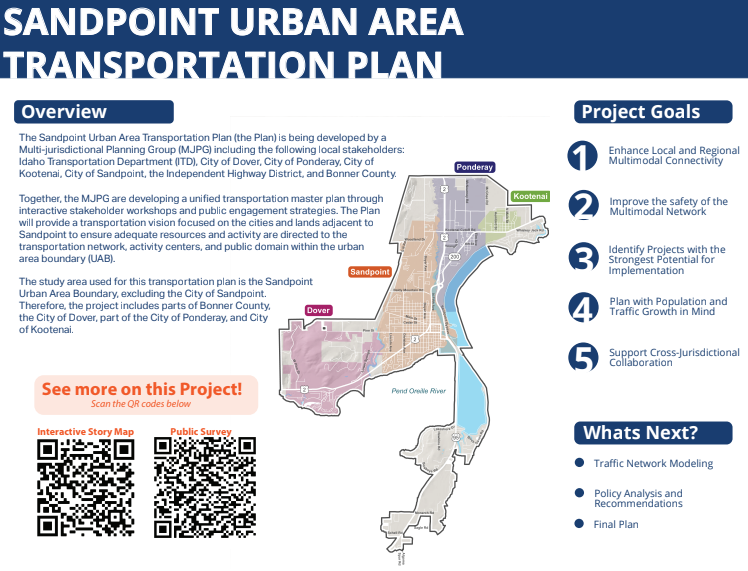 7/7/22
BNSF will be closing the railroad track for repairs on Boyer Ave at Baldy Mountain Rd starting Monday, July 11th at 6 am and reopening on Wednesday, July 13th at 6 pm. Detour signs will be set up this week.

Please note that this is a courtesy notification. This is not a Bonner County maintained road.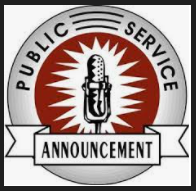 6/28/22
Sunnyside Road will be closed at approximately the 4200 block (just west of Osprey Roost) on Thursday, July 7th from 7 am to 3 pm to remove large trees. Please plan accordingly.

5/18/22
Razz Construction, Inc. will be beginning work for ITD at the following Railroad Crossing locations starting May 31st, 2022.
The crossings are in multiple places throughout Bonner County. Work will take place from the hours of 7:00am-5:00pm. There will be implemented road closures with a detour at crossing's two through seven. The rest of the crossings will have single lane closures and will utilize flaggers.
Crossing 1- Homestead Rd
Crossing 2- Granite Loop Rd
Crossing 3- N Granite Loop Rd
Crossing 4- Kelso Clagstone Cuttoff
Crossing 5- Barnhardt RD
Crossing 6- Kelso Lake RD
Crossing 7- Edgemere Cutoff
Crossing 8- Jewel Lake RD
Crossing 9- Thama DR
Crossing 10- Lakeshore Dr
Crossing 11- Berry LN
Crossing 12- Gypsy Bay RD
Crossing 13- McGhee Rd
Crossing 14- Firestone Ln
Crossing 15- N Boyer Rd
Crossing 16- W Selle RD
Crossing 18- Race Track Rd
Crossing 19- N Elmira Rd
Crossing 20- Elmira RD 7.7 North off HWY 2
Work will begin at crossing number two and three on May 31st, 2022. Project duration is expected until the last week of July 2022. Please plan for any unforeseen traffic delays in the area.
5/18/22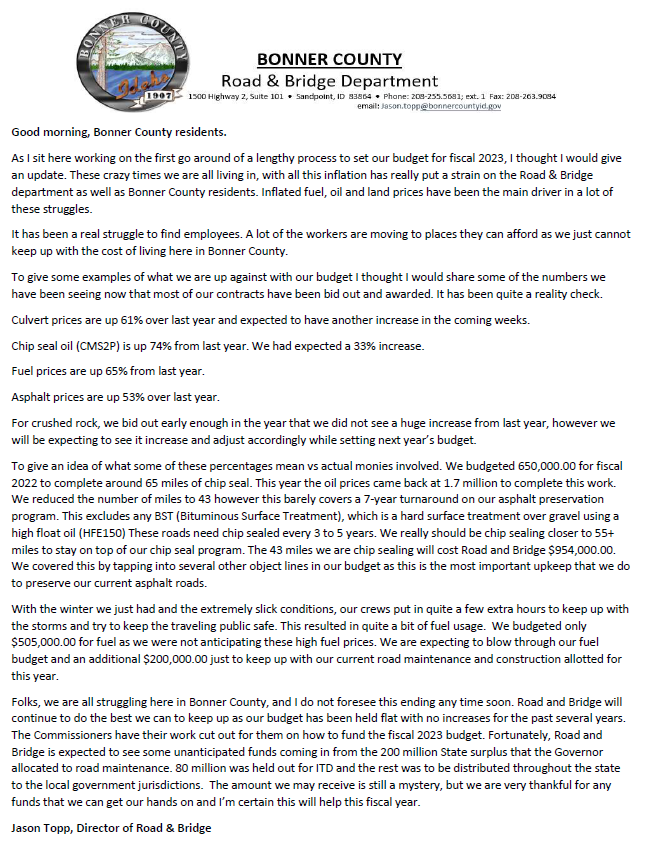 5/16/22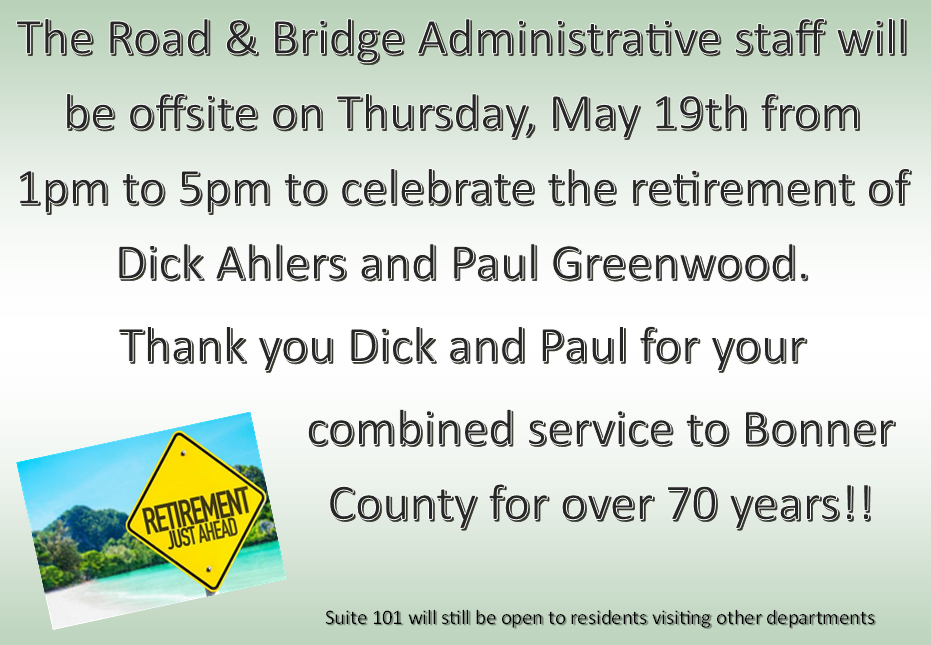 4/21/22
Clagstone Road between the 5600 block and the 6200 block will be closed on Tuesday, April 26th from 6 am to 4 pm for the final phase of the road realignment. Detour signs will be posted. Please plan accordingly.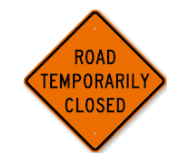 4/4/22
The 16000 block of Dufort Rd in Priest River will be closed on Wednesday, April 6th from 6am to 4pm to replace a failing culvert. Please plan accordingly.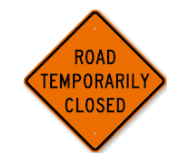 3/29/22
Notice from the City of Sandpoint ~
Great Northern Road is scheduled to be closed 3-31-22 at 7am overnight to reopen 4-1-22 around 6pm for railway repairs. Below is the closure map/detour route. Signage will be placed at Woodland and Baldy Mtn. Rd to give motorists advanced notice before reaching the closure.
*Please direct all questions to the City of Sandpoint.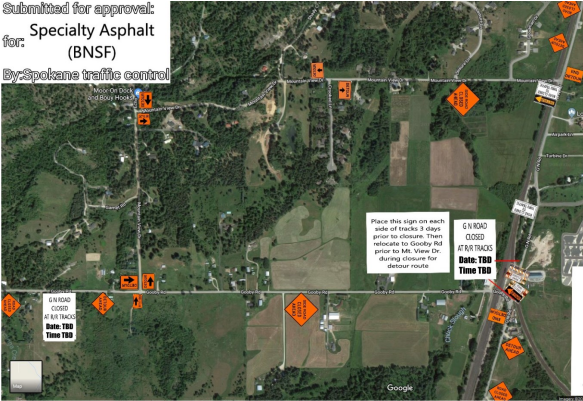 3/28/2022
Spring Update - Letter from the Road & Bridge Director Jason Topp

Hello Bonner County Residents, I thought I would give you folks an update from the Road and Bridge Department. Bonner County Road and Bridge crews were very busy this winter trying their best to keep 678 + miles of roads clear and safe. Road and Bridge crews struggled to keep up as the traffic has increased dramatically on our roads. Some of our gravel roads have seen an increase in traffic from a few years ago at 300 cars a day to now close to 800 cars a day with some of our asphalt roads reaching close to 2800 cars a day. We have had some interesting weather patterns from several hard freeze events then to rain creating some very slick roads. In our higher elevations, some roads are still covered in ice. Just to give you an idea for what it cost to perform this maintenance Road and Bridge winter maintenance cost for this winter was a little over 2.3 million. This is only the fuel, equipment cost, labor and sand.
Weight restrictions have been posted on all County Roads at this time.
The spring rains, snow melt along with the increase in traffic have created quite a mess with our gravel roads. Road and Bridge maintains around 380 miles of gravel roads throughout the County. Our equipment operators are doing what they can to address the potholes that have plagued our gravel roads. This takes time, I know everyone would like their county road graded and we will get to them. This time of year, as everything is starting to thaw out, the roads will become saturated with water. This makes it very difficult to grade as it just turns to a soupy mess and will just blow right back out as it is too wet to compact with the mud covering your vehicle as well. As we cut the potholes, we expose the frozen layer directly under the surface and this starts a chain event for more mud and water. This usually lasts a good month or so until things start to dry out. When we prep our roads for the winter, we put around a 3% to 4% crown in our gravel roads to help the public stay on the roads better when snow or ice covered. If the crown is too steep cars will slide off the road or tend to drive in the middle of the road to straddle the crown in fear that they will go in the ditch. This is a double edge sword as when spring comes around, we do not have enough crown for the water to drain properly therefore saturating the soils which causes the slew of potholes that plague our roads. As we start to dry out, we will reshape the roads with a steeper crown of 5% to 6% so the roads stay relatively smooth for the summer and fall months. This just happens to be the cycle of life here in Bonner County. Hard surface roads are a bit easier to maintain since water just sheets off into the ditch. I have been out driving some of these roads and for the most part the roads are starting to dry out and starting to take shape. Operators have begun to put a higher percentage of a crown on these roads for the summer months. We have now entered the flooding months as well. Streams are very high, and water is flowing at a high rate of speed causing more issues like overloading culverts, creating washouts and land or rockslides. Crews are addressing these areas.
There are more miles of non-maintained public roads in Bonner County than County maintained roads. These non-maintained roads are and have always been problematic for the residents who live along them during this time of year. These roads are not maintained by the Road Department but are left to the individuals who live along them to maintain. There has been some confusion by residents that because it is a public road, they think the County should maintain it. These roads were created by developers or private landowners and then dedicated to the public so people would not have to buy an easement for each property and allow access. These roads were never built to a standard in which the County would consider for maintenance nor were they intended to become a County maintained road. Be sure of what you are purchasing as some of these areas may be flooded and impassable during certain times of the year and the Road Department is not funded to help with these roads.
Crews are out in full force sweeping the sand covered asphalt roads to prepare them for the summer. Be sure to keep a safe distance to avoid any accidents as dust will most definitely be a concern for visibility. Crews will have water trucks to try to help with this. As many of you have noticed, the inflation of fuel, oil, parts, equipment and pretty much anything that can be purchased has gone up in price here in recent months. Asphalt prices have increased 20% and continue to rise. Culverts prices went up by 63%, and liquid asphalt is expected to be around 33% higher. This could put a strain on our budget and make short work of our planned asphalt and construction projects. Maybe even reduce our chip seal projects that we do to preserve our asphalt roads. Road and Bridge is always trying to find better ways to best serve the public's needs and expectations within our budget and will continue to do so. I have worked for the Road and Bridge Department for almost 27 years, and I am very proud of what our crews have accomplished during this time. We have improved roads from no access in the springtime to year around access and some of these roads are now hard surfaced. We will continue to keep improving the roads and bridges of Bonner County. Road and Bridge has many road projects moving forward for this year. We will be applying 2.6 miles of asphalt on Clagstone Road as well as a realignment of a very dangerous corner within this section of the road. We will be applying asphalt to 2.2 miles of Camp Bay Road as well. We have around 67 miles of chip seal slatted for the preservation of our asphalt roads. We will be applying Magnesium Chloride to over 270 miles of gravel roads this year to preserve the surface life of our gravel roads system.
With the new roll out of surplus funds from the state, 200 million was allocated to bridges. This money is to be used on bridges based on the ITD inspection report data which are only done on bridges greater than 20 feet in length. Bridges with weight restrictions are the main focus of this money throughout the state. These funds are to be applied for including a written letter showing the impacts and benefit to the public in the area for the reconstruction of or replacement of the bridge. These funds have no match from the County for any of the work to be done. Bonner County has several bridges that fall into this category with at least three that should rank in the top 100 to be considered. Bonner County Road and Bridge will be applying for these funds. There are also surplus funds that will be coming to the Road and Bridge Department sometime after July that is intended for road maintenance. The amount and date are still unknown; however, these funds will be put to good use while also helping with the budget constraints in fiscal year 2022 if received before October. I hope this update finds you all well. We here at Road and Bridge are looking forward to the warmer days ahead.
Jason Topp
Director, Bonner County Road and Bridge